Pathologist Who Misdiagnosed 3,000 Veterans Pleads Guilty to Manslaughter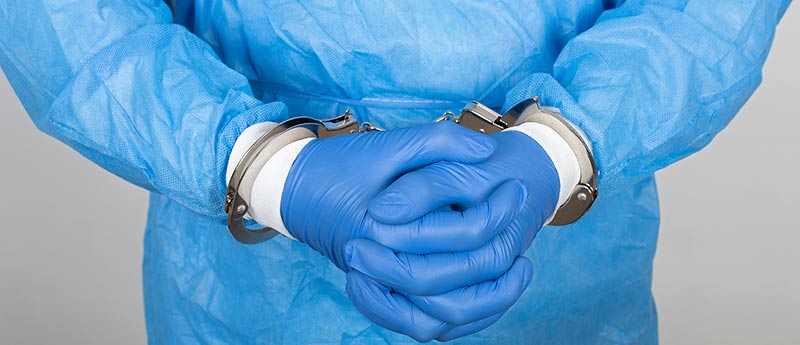 Robert Morris Levy, a former pathologist at a Veterans Affairs (VA) hospital in Arkansas has pleaded guilty to manslaughter. The disgraced doctor was charged with involuntary manslaughter after misdiagnosing an Air Force veteran twice. Levy pled guilty to a second charge of mail fraud after falsifying records, claiming his coworker confirmed the diagnoses. The two charges carry a combined maximum sentence of 28 years.
Drunk and Diagnosing
These two charges come after Levy's actions cost an Air Force veteran his life. In 2014, he misdiagnosed the veteran with two different forms of cancer. The misdiagnosis and incorrect treatment preceded the veteran's death five months later.
Did a doctor make a mistake in finding your cancer? Learn about your legal options regarding cancer misdiagnosis today.
These two charges are a small part of the potential legal action against Levy. According to VA officials, his misconduct is connected to:
More than 3,000 misdiagnoses
15 deaths
Medical harm to veterans
An investigation found almost 10% of his diagnoses involved clinical errors. Levy's history of misdiagnosing patients seems to stem from his alcoholism.
Levy Uses Medical Background to Hide Substance Abuse
Robert Morris Levy worked for the Veterans Health Care System of the Ozarks in Fayetteville, Arkansas starting in 2005. In 2018, he was fired. The facility first learned of his potential alcohol abuse in 2015. Levy denied the allegations and nothing came of the claims.
One year later, in 2016, Levy was intoxicated at work. He then voluntarily entered a three-month in-patient treatment program.
Levy's Suspensions From Work Relating to Alcohol Abuse
March 2016: Levy is suspended for being impaired at work.
October 2017: Levy is suspended a second time for being impaired at work.
In October 2016, Levy returned to work at the VA facility after completing the treatment program. One condition of his employment was submitting to random blood and urine sampling.
Levy had his medical privileges revoked in 2017 after a second incident of being impaired at work. He continued working on administrative duties until a 2018 arrest.
After Levy's 2018 arrest for driving under the influence, he was fired from the VA. The VA then conducted an 18-month review of his work. This review alerted the VA to his misdiagnoses.
30 of Levy's misdiagnoses led to serious health risks to patients.
According to reports from the review, Levy purchased and was taking 2-methyl-2-butanol (2M-2B).
2M-2B is a substance that achieves the effects of intoxication without appearing on the mandated drug tests. It can be lethal if taken at incorrect proportions.
Records show Levy bought 2M-2B more than 10 times from June 2017 through 2018. During this period, Levy was required to take drug tests. He tested negative each time.
Claims Brought Against Drunk Doctor
The many criminal claims brought against Levy are rare, as most medical malpractice cases end up in civil court.
Total Charges Against Robert Morris Levy
Levy was indicted by a federal grand jury in Arkansas on:
12 counts of wire fraud
12 counts of mail fraud
4 counts of making false statements in certain matters
3 counts of involuntary manslaughter
Levy pled guilty to one charge of mail fraud and one of involuntary manslaughter. These pleas will be followed by sentencing in the coming months. Levy could face up to 28 years in prison.
VA Response
The VA has stated Levy's issues were an isolated incident. However, his behavior has triggered changes across the VA organization.
What Is The VA?
The Department of Veterans Affairs (VA) is a government agency responsible for administering a variety of veterans benefits, including healthcare. The VA includes a network of hospitals to care for United States Veterans. There are 1,200 VA hospitals and clinics serving 9 million veterans a year.
As a result of the misdiagnosis and claims filed against Levy, the VA has instituted more oversight for small locations, like the one where Levy worked.
The added oversight to these small facilities requires places with two or fewer doctors in a specific specialty to have outside doctors conduct peer reviews.
According to Kelvin Parks, Fayetteville Hospital Director, the hospital has settled five tort claims with veterans and/or their families after receiving care from Levy.
Some victims and their families say Levy's guilty pleas are not enough to atone for his reckless behavior.