Most knee replacement lawsuits focus on problems experienced by patients due to defective design or allergic reactions. While thousands of successful knee surgeries occur every year, many who suffer from severe complications turn to lawyers to help find a way to pay for revision or replacement, physical therapy and related treatment costs.
Why People Are Filing Knee Replacement Lawsuits
From 2012 – 2017, more than 744,000 knee replacement and revision surgeries took place in the United States:
Knee replacement surgeries are generally considered safe.
However, painful and debilitating complications can arise due to defective knee devices, immune system, and other problems.
Some devices used have caused so many problems that device makers have had to issue recalls.
Medical device implants are difficult to repair, replace or remove, unlike prescription medications or consumer products which people can often switch to a safer alternative or stop using altogether. Patients who suffer serious side effects may require additional surgeries or other treatments.
Knee replacement lawsuits claim that medical device companies failed to warn patients about potential dangers. Plaintiffs seek legal damages to pay for treatment, costs of the device, lost income, and other expenses related to problems with the device.
Complications Mentioned in Knee Device Lawsuits
Pain and aching
Inflammation
Infection
Swelling
Loosening of the joint
Clicking or popping noises
Mobility problems
Metal allergy/sensitivity
Metallosis
Knee Replacement Recalls
At the heart of many lawsuits are design or manufacturing problems with artificial knees. According to the FDA's recall database, since 2003 there have been nearly 1,300 recalls on knee replacement systems or components.
The companies with the most recalls have also faced significant numbers of lawsuits:
Zimmer – 355 recalls
DePuy – 346 recalls
Smith & Nephew – 139 recalls
Biomet – 91 recalls
Note that Zimmer Biomet has issued 95 recalls since Zimmer and Biomet merged in 2015. This is on top of the more than 400 knee device recalls issued by the separate companies before their merger.
Knee Implant Recalls Since 2003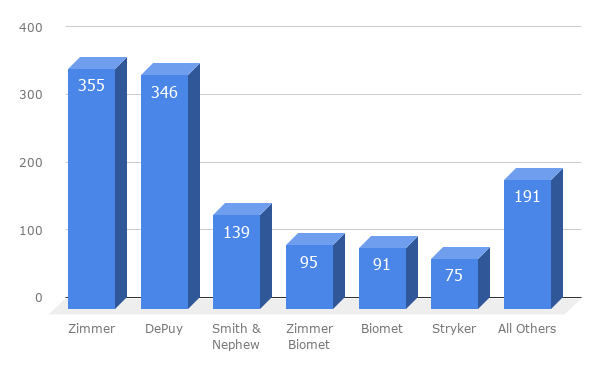 Source: U.S. Food and Drug Administration Recall Database
Current Knee Replacement Litigation
Over the years, many lawsuits have been filed against knee device makers like Stryker, Smith & Nephew, Wright Medical, Biomet and Zimmer. Today, most of the outstanding lawsuits are against Zimmer Biomet, consolidated into multidistrict litigation in the U.S. District Court for the Northern District of Illinois. Plaintiffs seek legal damages related to medical bills, pain and suffering related to their faulty knee implants.
Zimmer Knee Lawsuits (MDL 2272)
In 2010, Zimmer issued recalls for multiple knee components in its NexGen Knee Replacement system. As details about problems with NexGen implants were made public, people who suffered pain, discomfort and immune system reactions to their knee implants began to file lawsuits against the company.
In 2011, federal lawsuits against Zimmer NexGen knee devices were consolidated into MDL 2272 for administrative purposes. More than 1,700 Zimmer lawsuits were filed in the MDL before trials began in 2015.
Several of the first few cases to be selected for bellwether trials ended up being dismissed before they went before a jury. By June 2016, only a single bellwether trial was complete and 15 others had been dismissed.
In June 2016, Judge Rebecca R. Pallmeyer issued a case management order that threw out cases making claims other than device defectiveness. This "Lone Pine" order required claimants to "provide evidence or certification of loosening of a NexGen Flex femoral component, a 5950 NexGen MIS Stemmed tibial component, or any other tibial component implanted with a NexGen Flex femoral component." Claimants who failed to do so within the specified time frame had their cases dismissed and are now unable to seek legal damages regarding the implant.
MDL 2272 was closed in October 2019.
Zimmer Lawsuit Settlements
In January 2018, Judge Pallmeyer ordered both sides of the NexGen Knee Systems lawsuits in MDL 2272 to attend arbitration in an attempt to reach a settlement. In February, they came back with a proposed settlement offer, and all pending cases were put on hold. Several months later, in June 2018, plaintiffs' lawyers announced that they had agreed on terms of a settlement with Zimmer Biomet over NexGen lawsuits.
According to Zimmer Biomet's 2018 Annual Report, in February 2019, the company informed the court that they were finalizing a settlement that would resolve all but six of the outstanding cases in the MDL. Details of the settlement remain confidential.
Long before the NexGen lawsuits, Sulzer Medica paid $1 billion to settle about 4,000 knee device lawsuits against it before being acquired by Zimmer in 2003. Problems with the production of Sulzer's Natural Knee II Tibial Baseplate caused a small amount of oil to be left on the device, which led to post-implantation problems and adverse effects as long as a year after surgery. The company had issued a recall on the knee component in 2000.
Other Knee Replacement Lawsuits
Zimmer Biomet currently faces the most lawsuits, but other companies have also faced individual and class action lawsuits due to defective products. Some of the brands involved in complex litigation include:
DePuy Synthes Attune Knee System (Johnson & Johnson)
Exactech Optetrak Knee Replacement
Duracon Unicompartmental Knee
Stryker ShapeMatch Cutting Guides (not a knee joint component itself, but a tool used in knee surgery)
Individuals who have suffered complications from these devices should consider legal action and get a free case review.
Note: product liability lawsuits related to knee replacements differ from medical malpractice lawsuits.
Are Knee Replacement Lawsuits Still Being Filed?
At this time, most knee device lawsuits have been settled, dismissed or otherwise resolved. However, there are still recalls on artificial knee components happening regularly, and it is possible more lawsuits could be filed in the future.
If you believe your knee device is defective, you should talk to your doctor right away to understand your medical options and consider legal recourse.