Thousands of people have filed Zantac lawsuits, claiming the heartburn drug caused their cancer. Recently, tests identified a cancer-causing substance known as NDMA in the drug. NDMA was also found in ranitidine, the generic form of Zantac.
Plaintiffs claim the carcinogen-containing drug caused a variety of cancers. They also allege manufacturers concealed this risk. Zantac users and their loved ones may be able to file personal injury or wrongful death lawsuits. An experienced lawyer can help.
ALERT: All Zantac and ranitidine products have been recalled. This includes over-the-counter and prescription forms of the drug. Zantac and generic ranitidine are currently unavailable in the U.S.
Why Are People Filing Ranitidine Lawsuits?
People are filing lawsuits claiming a carcinogen in the drug caused their cancer. Plaintiffs in Zantac and ranitidine litigation have made a number of additional allegations in court filings.
Manufacturers Knew About Carcinogens in Zantac
According to lawsuits, manufacturers knew Zantac contained potential carcinogens long before the public became aware. From 1982 to 2019, publications repeatedly highlighted ranitidine's carcinogenic potential. Drug makers did not inform consumers of ranitidine's dangers during this time period.
Consumers were largely unaware of Zantac's cancer risk until Valisure, an independent pharmacy, raised the alarm.
Manufacturers Made Billions While Consumers Faced Ranitidine Cancer Risk
According to one report, GlaxoSmithKline (GSK) sold $1 billion worth of Zantac as of December 1986. By 1987, Zantac accounted for a third of GSK's sales. Statista reports one form of Zantac accounted for $128.9 million in sales in 2018.
Average Cost of Bladder Cancer Treatment
Adult Urology, 2015
Bottom line: Manufacturers made millions -- possibly billions -- of dollars selling a drug repeatedly linked to cancer.
Zantac Manufacturers Should Have Warned Consumers About Cancer Risk
Zantac and ranitidine manufacturers had a responsibility to warn consumers of the drug's cancer-causing potential. However, cancer was never listed as a potential side effect on the Zantac label.
Consumers might have chosen a different drug had they known of the carcinogen in Zantac. Instead, many have developed cancers potentially caused by NDMA in Zantac.
There are several Zantac alternatives still on the market. However, some have been linked to COVID-19 risks. Learn more here >>>
Hundreds of lawsuits have now been filed against ranitidine-based product manufacturers. Many of the plaintiffs in these cases have made similar claims.
Zantac Lawsuit Claims
Manufacturers failed to warn consumers of Zantac's NDMA content and cancer risk.
Ranitidine itself is unstable and can release NDMA as it breaks down.
Drug makers knew ranitidine could form NDMA.
Drug makers knew NDMA could cause cancer.

File with Confidence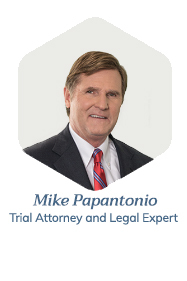 Diagnosed with cancer after taking Zantac? Get help from one of the most experienced lawyers in the country. Mike Papantonio is a Board Certified Trial Lawyer and senior partner at Levin Papantonio. He has received multiple Lawyer of the Year awards and is one of only 60 members of the Trial Lawyer Hall of Fame.
Mr. Papantonio has won numerous multi-million dollar verdicts on behalf of his clients.
How to Qualify for a Zantac Lawsuit Claim
Only a lawyer can determine the viability of your case. While assessing your case, a Zantac attorney may ask questions about your history of Zantac use and health status. Many law firms have listed the following eligibility factors:
Required: History of Zantac Use
Individuals who can easily prove they took Zantac or ranitidine may qualify. A prescription or a doctor's note can suffice. For over-the-counter (OTC) ranitidine products, a receipt may be helpful.
Required: Cancer Diagnosis
Thus far, claimants have sued over cancers linked to NDMA. In order to sue, you will have to have a confirmed cancer diagnosis. You can see the list of NDMA-associated cancers here.

Stomach cancer
Bladder cancer
Small intestine cancer
Esophageal cancer
Liver cancer
Pancreatic cancer
Leukemia

Helpful: High Zantac Exposure
Taking Zantac at a high dose or for a long period of time may make it easier to connect the drug to a cancer diagnosis.
Cancers Linked to Zantac
Types of Cancer Linked to Zantac (Ranitidine)
People who took contaminated Zantac and ranitidine-containing drugs are filing lawsuits for 12 types of cancer, including stomach, intestine and bladder cancer. Here is a full list of cancer types and the associated symptoms.
Cancers Linked to Recalled Zantac and Their Symptoms
Type of Cancer
Symptoms
Stomach cancer

Feeling full even after a small meal or snack
Heartburn
Indigestion
Lack of appetite
Nausea
Stomach pain
Swelling of the abdomen
Unintentional weight loss
Vomiting
Bloody stool

Bladder cancer

Bloody urine
Changes in bladder habits
Symptoms of irritation during urination
Difficulty urinating
Low back pain on one side
Poor appetite
Weight loss

Small intestine cancer

Bloody stool
Nausea
Stomach pain
Unintentional weight loss
Vomiting
Yellowing of skin and eyes

Colorectal cancer

Bloody stool
Changes in bowel behavior lasting more than a few days
Cramping and stomach pain
Feeling the need to have a bowel movement that is not relieved after a bowel movement
Rectal bleeding
Unintentional weight loss

Esophageal cancer

Bleeding into the esophagus (may cause bloody stool)
Chest pain
Chronic cough
Difficulty swallowing
Hoarse voice
Vomiting

Kidney cancer

Anemia (low red blood cells)
Bloody urine
Fever
Low back pain on one side
Lump or mass on the side or lower back
Poor appetite
Unintended weight loss

Liver cancer

Abdominal swelling
Feeling of fullness under the ribs on the right and/or left side
Itching
Nausea
Pain near the right shoulder blade
Poor appetite
Stomach pain
Vomiting
Yellowing skin and eyes

Pancreatic cancer

Back pain
Blood clots
Bloody or dark urine
Itching
Light-colored or greasy stool
Nausea
Stomach pain
Unintended weight loss
Vomiting
Yellow eyes and skin

Leukemia

Bleeding or bruising easily
Chills or fever
Excessive sweating
Feeling tired
Frequent infections
Frequent nosebleeds
Red spots on the skin
Swollen lymph nodes
Unintended weight loss
Zantac Cancer Risk
Each Zantac user's cancer risk will depend on a number of factors, including:
The level of NDMA in the Zantac and/or ranitidine products they used
The length of time they used NDMA-containing Zantac
Individual health conditions
At this time, neither the U.S. Food and Drug Administration (FDA) nor Zantac manufacturers have estimated the true cancer risk of Zantac. However, the FDA has estimated the cancer risk for NDMA-contaminated valsartan, a blood pressure drug. The agency determined that one additional cancer case would occur for every 8,000 people who took the drug for four years. It is unknown if Zantac would have a similar outcome.
Learn why people are suing over NDMA-contaminated valsartan here >>>
According to Valisure's data, Zantac contains enough carcinogen to cause cancer in lab animals.
A doctor can help estimate a person's individual risk and appropriate level of vigilance in watching for signs of cancer. If you develop cancer after taking Zantac, our attorneys can determine if you are eligible to file a lawsuit.
Zantac Carcinogen Exposure Levels
As shown in the infographic below, recalled Zantac products exposed users to high levels of carcinogen. The FDA's data show NDMA at almost 10x the safe level.

Learn how we made the Zantac NDMA exposure chart here >>>
Zantac Class Action Lawsuits
The first Zantac class action lawsuit was filed in the Northern District of California. Four plaintiffs filed a legal complaint against Sanofi and Boehringer Ingelheim.
The plaintiffs claimed the two manufacturers failed to warn consumers of the established link between ranitidine and NDMA. Plaintiffs say this omission misled and endangered patients.
The second class action lawsuit against ranitidine was filed on September 20, 2019. It was filed in the District of New Jersey. It listed similar allegations to the first complaint. Additional Zantac class action lawsuits have since been filed in New York and Connecticut.
A class action lawsuit groups together similar cases under one plaintiff or a lead representative. This results in one legal proceeding for the group of lawsuits rather than one individual lawsuit per plaintiff.
Note: Current Zantac class actions do not require a cancer diagnosis. Anyone who used Zantac or ranitidine may be eligible to join.
Zantac Multidistrict Litigation
On February 6, 2020 the United States Judicial Panel on Multidistrict Litigation (JPML) acted on Zantac lawsuits. The panel chose to consolidate more than 120 cases via multidistrict litigation (MDL). This action formed MDL 2924. As of April 2021, there are more than 575 cases pending in the Zantac MDL.
The multidistrict litigation (MDL) process allows courts to streamline lawsuits with common questions of fact. Unlike a class action lawsuit, the MDL process keeps the cases separate.
Learn more about the MDL process here >>>
Lawsuit Highlight: Blake Sues Manufacturers for Bladder Cancer Diagnosis
In October 2019, Mark Allen Blake filed a lawsuit against multiple Zantac and ranitidine manufacturers. Blake began using Zantac in 1996. He used the drug four times per week for approximately 23 years.
Blake was diagnosed with bladder cancer in 2018. He learned about NDMA in Zantac from an online article in October 2019. He says he would not have taken Zantac if he had known it carried a risk of cancer. He has requested both compensatory and punitive damages.
Zantac Lawsuit Settlements and Compensation
Compensation from a Zantac lawsuit may be similar to previous faulty drug lawsuits, which have resulted in awards of $3.2 million or more. However, no ranitidine lawsuits have been settled or gone to trial yet. So, the range of compensation has yet to be determined for these specific cases.
Plaintiffs in faulty drug lawsuits tend to claim common legal damages:
Legal damages may include the cost of additional medical treatments related to a cancer diagnosis.
Legal damages may include loss of income due to the cancer diagnosis and treatments.
Legal damages may include physical and emotional pain from cancer.
Some ranitidine lawsuits may seek punitive damages to punish the manufacturer for negligence and wrongdoing.
Zantac Lawsuit FAQs
How Much Does it Cost to File a Zantac Lawsuit?
Initially, it costs nothing to file this type of lawsuit. Zantac attorneys typically take cases on a contingency basis. This means you will not pay the lawyer anything until and unless you win your case.
Who Qualifies for a Zantac Lawsuit?
Learn about Zantac lawsuit eligibility here >>>
How Much Is the Zantac Lawsuit Payout?
Zantac lawsuit payouts will depend on several factors. You can learn about those factors and payout amounts in the compensation section above.
Is There A Recall on Zantac (ranitidine)?
Yes. Manufacturers have issued a voluntary recall for all zantac and ranitidine products. Zantac and ranitidine heartburn medications are no longer available in the U.S.
The recall was issued in April 2020. Retailers like Walgreens, CVS and Walmart stopped selling the drug in 2019 citing safety concerns.
What is NDMA?
N-nitrosodimethylamine (NDMA) is a hazardous substance recently found in Zantac. Years ago, it was used in the production of rocket fuel. Today, NDMA is only used for research, usually to create cancer in test animals.
NDMA has not been thoroughly tested in humans. But, it is considered to be a carcinogen --a substance capable of causing cancer -- in animals. Thus, two regulatory agencies classify NDMA as a probable human carcinogen:
The U.S. Environmental Protection Agency (EPA)
The International Agency for Research on Cancer (IARC)
The U.S. Food and Drug Administration (FDA) says humans can ingest 96 nanograms of NDMA per day. If NDMA stays below this maximum daily exposure level, it should not significantly affect a person's health. 96 nanograms is about 600 times smaller than a grain of salt.
Free Zantac Case Review
Connect with our legal experts today.
Zantac Lawsuit News
February 2021 | Study Says Zantac May Form Carcinogen in the Stomach
February 2021 | Zantac Among Drugs Contaminated with NDMA
February 2021 | Judge Blocks Some Claims in Zantac MDL
July 2020 | Current Status of the Zantac Recall
April 2020 | All Zantac and Ranitidine Withdrawn from the U.S. Market
March 2020 | COVID-19 Pandemic Stalls Zantac MDL Proceedings
February 2020 | Zantac MDL Consolidates Lawsuits in the Southern District of Florida
Zantac Heartburn Medication Facts

Brand Name: Zantac
Generic: Ranitidine
Common Over-The-Counter (OTC) Zantac Products

Zantac 25
Zantac 75
Zantac 150
Zantac 300

Zantac Uses
Zantac belongs to a class of drugs called H2 blockers and is used for the treatment of:

Gastric ulcers
Excess production of stomach acid
Gastroesophageal reflux disease (GERD)

Zantac Manufacturers

GlaxoSmithKline
Boehringer Ingelheim Pharmaceuticals
Chattem
Pfizer

Zantac Recall Justification

Laboratory tests identified unsafe levels of a carcinogenic contaminant (NDMA) in Zantac
Additional tests indicate ranitidine may break down over time, releasing NDMA.
Ranitidine may also break down in the human stomach, increasing the level of NDMA exposure.

You can find find more detailed Zantac information on our Zantac Information page.
How We Created Our Zantac NDMA Exposure Chart
We used several pieces of information to construct the NDMA exposure chart above. First, we needed to know exactly how much NDMA was found in Zantac. There are two potential sources for this information:
Valisure Data
Valisure is an independent pharmacy. It was the first to raise the alarm about NDMA in Zantac. The company's test results showed NDMA ranging from about 300,000 to 3,000,000 nanograms per Zantac tablet.
FDA Data
In response to a citizen petition from Valisure, the FDA performed its own tests. The FDA tests found unacceptable levels of NDMA in some products. NDMA levels ranged from 0 to 860 nanograms per tablet.
For our chart calculations, we chose to use the FDA's data. Since the FDA levels were lower, this provides a conservative estimate of NDMA exposure.
To calculate NDMA exposure over time, we assumed a person would take the maximum daily dose. We multiplied the amount of NDMA found in recalled Zantac by the number of days indicated in each chart column.
To provide reference, we also calculated the amount of NDMA a person could ingest "safely." We used the FDA's maximum daily exposure level for NDMA (96 nanograms). We multiplied this amount by the number of days in each chart column. It is represented by the small blue portion of each exposure bar.