Current Status of the Zantac Recall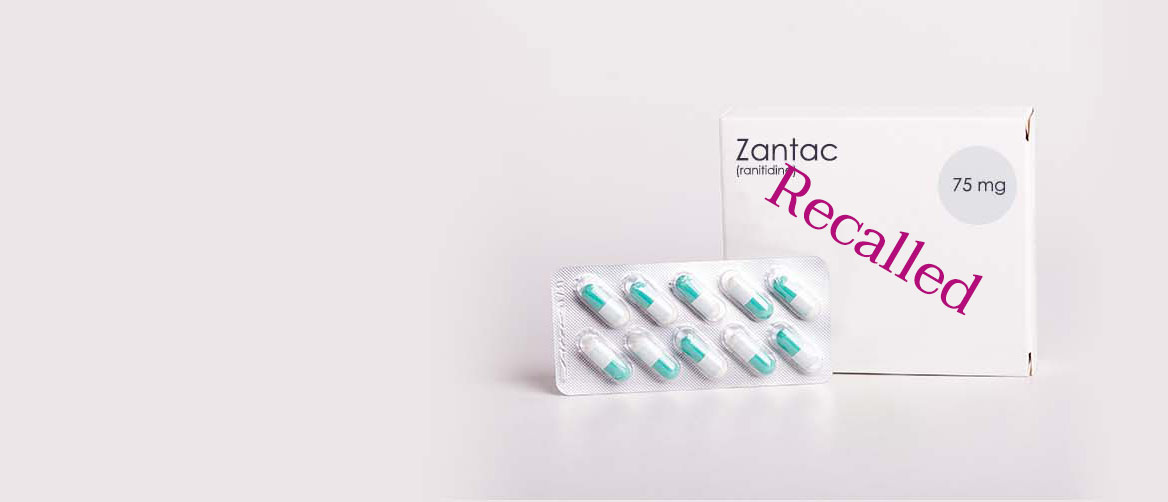 Zantac is a brand name heartburn medication previously available in over-the-counter (OTC) and prescription forms. Before the recall, Zantac was commonly sold as generic ranitidine.
Neither Zantac nor ranitidine are currently available in the United States. 
In 2019, several manufacturers found a cancer-causing substance in the ranitidine medicines. As a result, the contaminated drugs were recalled. In response, the U.S. Food and Drug Administration initiated an investigation. The FDA investigation sought to examine the safety of ranitidine-containing drugs.

In April 2020, the agency requested that manufacturers pull all ranitidine drugs from the market. Additionally, the agency advised all consumers using over-the-counter (OTC) ranitidine drugs to stop taking the medication. Consumers taking prescription ranitidine are advised to speak with a healthcare professional immediately to get a safer alternative.
Learn about Zantac alternatives here >>>
The recalls and market withdrawal stem from the cancer-causing substance N-Nitrosodimethylamine (NDMA). NDMA is a probable human carcinogen. A carcinogen is a substance capable of causing cancer. A consumer or patient could suffer significant health risks if he or she consumes too much NDMA.
How NDMA Was Discovered in Zantac
Valisure, an independent pharmacy, discovered NDMA in Zantac and ranitidine products.
Traditional pharmacies like CVS and Walgreens do not test drugs before selling them.  Instead, regular pharmacies rely on manufacturer-performed safety testing. According to company founders, Valisure is different. This pharmacy dedicates itself to preventing adverse reactions caused by low quality drugs.
Valisure's NDMA Testing and Citizen Petition
Valisure independently tests each drug they sell. This testing uncovered the first evidence of NDMA in Zantac and ranitidine in early 2019. Initial tests showed NDMA in ranitidine products at more than 3,000 times the acceptable limit.
These tests also raised another alarming possibility: under the right conditions, ranitidine could produce NDMA in the stomach. If accurate, patients taking NDMA-free ranitidine are still at risk of NDMA exposure.
In September 2019, Valisure filed a citizen petition with the FDA. The petition made several statements with regard to NDMA in Zantac:
Ranitidine is unstable as a molecule.
Ranitidine instability could lead to generation of NDMA in the body.
One study shows NDMA increases 400 fold in urine after ingesting ranitidine. This constitutes an amount of NDMA 500 times higher than the limit set by the FDA.
Valisure closed the petition by asking the FDA to recall all Zantac and ranitidine products. According to Valisure, any ranitidine product poses a risk of generating "very high levels of NDMA in the human body."
Popular blood pressure medications have also been contaminated with NDMA. Learn more here.
The FDA's Role in the Zantac & Ranitidine Recall
In response to Valisure's petition, the FDA notified the public of the potential NDMA in ranitidine products. Agency officials also mounted their own investigation into the contamination and the possibility of ranitidine creating NDMA after ingestion.
Several manufacturers recalled all ranitidine products rather than waiting for the investigations. Others did their own testing and recalled specific lots of NDMA-contaminated drugs.
The FDA's initial testing confirmed the presence of low- level NDMA contamination in some ranitidine products. They did not find levels as high as Valisure found. The levels found in some drugs were equivalent to those found in common foods. Other drug samples tested higher than the acceptable limit and were recalled as a result.
Upon further testing, the FDA eventually requested the market withdrawal of all Zantac and ranitidine. This agency requested this recall on April 1, 2020.
The FDA issued the withdrawal after tests revealed levels of NDMA increase over time in ranitidine products. This increase happens in normal storage conditions. However, storage at warmer temperatures can result in even higher levels of NDMA production.
Zantac Recall Timeline
June 2019: Independent pharmacy Valisure found high levels of NDMA in Zantac. Valisure notified the FDA of their findings.
September 2019:  Valisure asked the FDA to issue a ranitidine recall. The request was submitted as a citizen petition.
September 13, 2019: The FDA notified the public of possible NDMA in ranitidine products.
September 23, 2019: Sandoz Inc issued a voluntary recall of ranitidine hydrochloride capsules.
September 25, 2019: Apotex Corp. issued a voluntary recall of ranitidine tablets in several doses.
September 28, 2019: Walgreens suspended sales of Zantac products. CVS suspended sales of Zantac and CVS Health brand ranitidine drugs.
October 8, 2019: GlaxoSmithKline recalled prescription Zantac medications as a precaution.
October 18, 2019: Sanofi issued a recall of all Zantac OTC in the United States and Canada. Company officials said the recall was a precautionary measure.
October 23, 2019: Dr. Reddy's Laboratories Ltd. issued a nationwide voluntary recall of their ranitidine heartburn medications.
November 6, 2019: Aurobindo Pharma USA, Inc. initiated a voluntary recall of ranitidine tablets, capsules and syrup.
November 8, 2019: American Health Packaging recalled eight lots of ranitidine syrup.
November 12, 2019: Amneal Pharmaceuticals recalled ranitidine tablets and syrup.
November 15, 2019: Golden State Medical Supply, Inc. issued a nationwide voluntary recall of ranitidine hydrochloride made by Novitium Pharma LLC.
November 22, 2019: Precision Dose Inc. recalled ranitidine due to potentially unsafe levels of NDMA.
November 22, 2019: Golden State Medical Supply voluntarily recalled ranitidine capsules from Novitium.
December 4, 2019: The FDA announced new testing requirements for ranitidine manufacturers. FDA scientists stated their belief that ranitidine does not form NDMA in the stomach.
January 6, 2020: Denton Pharma recalled ranitidine tablets from their Northwind Pharmaceuticals brand due to the presence of NDMA.
January 7, 2020: Appco Pharma LLC recalled ranitidine due to the presence or potential presence of NDMA.
April 1, 2020: The FDA issued a market withdrawal request for all ranitidine products including OTC and prescription ranitidine drugs.
Zantac Recall FAQs
Has Zantac been taken off the market?
Yes. The FDA issued a market withdrawal request to manufacturers of ranitidine products. As a result, Zantac OTC and prescription-strength products will not be available to consumers or patients.
Which ranitidine has been recalled?
All Zantac and ranitidine products have been recalled as of April 2020.
Why was Zantac recalled?
Initial recalls were issued after tests showed unsafe levels of NDMA in Zantac. NDMA causes cancer in animals. Regulators believe NDMA also causes cancer in humans.
Zantac The FDA issued the market withdrawal request after evidence showed NDMA formed during normal storage of ranitidine products. Storage above room temperature caused even higher levels of NDMA to form.
Should I stop taking ranitidine?
Yes. According to the FDA, consumers should stop taking OTC ranitidine and dispose of the medication properly. Patients taking prescription-strength ranitidine should speak with their healthcare provider immediately to discuss alternative treatment options.
What can I take instead of Zantac?
Consumers who took OTC Zantac can find alternatives using the FDA's list of NDMA-free Zantac alternatives. Patients taking prescription-strength ranitidine should speak with their doctor about alternative medications.
Are people filing Zantac lawsuits?
Yes, they are. Some consumers blame their cancer diagnoses on NDMA-contaminated ranitidine. They have filed lawsuits against Zantac (ranitidine) manufacturers. You can get a free, no-obligation Zantac case review here.
Learn more about Zantac lawsuits here.