Legal Look: DePuy Hip Settlements, FTC v AbbVie, Lax Clinical Trials, and Why Juries Matter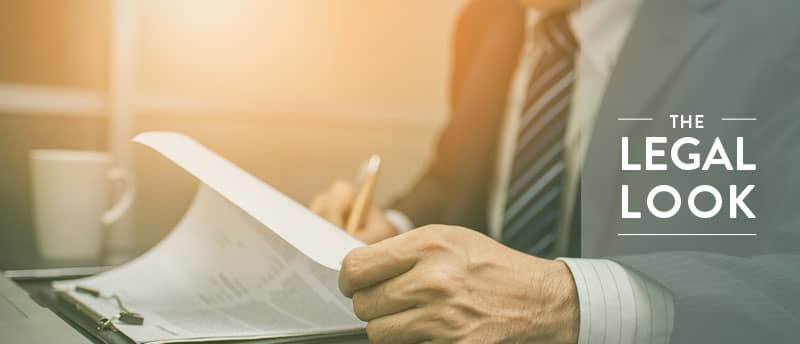 This week the Legal Look takes on the DePuy hip settlement, the continuation of the FTC's fight against Abbvie's anticompetition practices, a new lawsuit against two federal regulatory agencies over clinical trial data, and a judge in Massachusetts who feels passionately about the importance of jury trials for civil cases.
DePuy Hip Replacement Lawsuit Settlements
According to a report by Bloomberg, Johnson & Johnson has started settling more than 10,000 claims related to its DePuy brand of hip replacement components. J&J has faced a lot of pressure over the last couple years as juries have repeatedly told the medical device manufacturer to fork over billions of dollars in compensation for victims who have suffered from faulty hip devices. While many of the awards were later reduced (and some even thrown out altogether), the cost to the company is still massive, and settling may be both the quickest and the cheapest way to move forward.
Unfortunately, details of the settlement are not available to the public, so it is unclear how much the company is paying or how much individuals may receive as part of a hip replacement lawsuit.
FTC Wants to Subpoena AbbVie a Lot
In an ongoing investigation of AbbVie Laboratories, the Federal Trade Commission (FTC) is now seeking increased subpoena powers to help uncover alleged anticompetitive practices at the company. At the heart of the matter is the company's AndroGel testosterone therapy product, which the FTC alleges was used to cut deals with generic drug manufacturers in an effort to suppress or delay competition.
Earlier this year, AbbVie tried to get out of the nearly 10-year-old lawsuit, but a federal judge in Georgia ruled that the company must face the regulatory agency's claims in court. In September, AbbVie also announced a settlement of thousands of testosterone lawsuits, which was still in process as of the last case management conference in mid-November.
FDA and NIH Sued Over Clinical Trials
Peter Lurie, a former official for the U.S. Food and Drug Administration (FDA) and current President of the Center for Science in the Public Interest, and Charles Seife, an investigative reporter and professor at New York University, have filed a joint lawsuit against the FDA and the National Institutes of Health (NIH) over claims of allowing lax reporting of scientific data. At the heart of the matter is a 2007 law requiring researchers involved in clinical trials to report their results to the federal government. However, the FDA and the NIH, the two regulatory agencies tasked with overseeing the law, did not finalize rules under the law until 2016, and compliance requirements did not begin until 2017.
According to the complaint, the two federal agencies have failed in their duty to require researchers to provide clinical trial data in a timely manner. Clinical trial data is critical for determining the efficacy and safety of a drug - which is important for patient safety, as well as for additional research and development of both new and existing drugs. As a result, Seife and Lurie are asking the federal court to overturn the clinical trial data rule that went into effect last year and require the agencies to comply with the full text of the 2007 law, including placing public notices on ClinicialTrials.gov for clinical trials that do not provide data as required by law.
Given the importance of clinical trial data to the FDA approval process, it will be interesting to see whether this case has any effect on the various drug lawsuits and medical device litigation currently underway in federal courts. Could more data have increased knowledge and awareness of some of the dangerous side effects of drugs like Invokana and Pradaxa, or medical devices like Essure and hernia mesh? The past cannot be changed, but perhaps forcing the FDA and NIH to require clinical trial researchers to provide data in a timely manner - and calling out those who do not - can help prevent some injuries in the future.
Why Jury Trials Matter
One of the most common legal maneuvers employed in product liability and personal injury cases is to file a motion for a "summary judgment." This type of judgment allows judges to quickly rule on a particular case based on the claims and evidence presented in the initial complaint and defendant responses. Either party can ask for a summary judgment, but it is far more common for defendants to ask for a summary judgment dismissing the case in an attempt to secure a quick (and relatively inexpensive) resolution.
This week, a Massachusetts federal judge took several defendants in a personal injury lawsuit to task after they filed five separate motions for a summary judgment. The case, which is over a serious injury to an agricultural worker, could lead to millions of dollars in liability for a private equity firm. In the course of denying the motions, the judge said that jury trials are at the heart of the American justice system, and even though they can take a long time, denying someone the right of a jury trial would amount to "an unabashed retreat from the magnificent vision of the founders." In his opinion, the judge cited the Seventh Amendment of the U.S. Constitution, which says "the right of trial shall by jury be preserved" for any lawsuits with a value of more than $20.
Follow us on Facebook and Twitter for more stories and legal updates about problematic drugs, medical devices, consumer products, and hazardous conditions.