Roundup Verdict: No New Trial for Monsanto; Judge Cuts $289 Million Award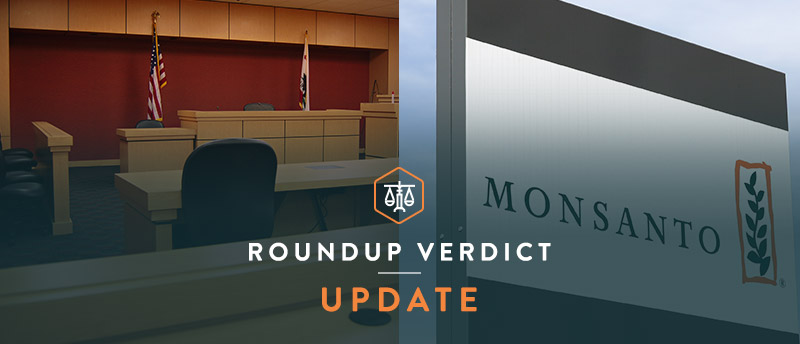 The Roundup verdict is in: Monsanto will not get a new trial according to a late ruling yesterday by San Francisco Judge Suzanne Bolanos. In doing so, the judge upheld the jury's verdict from August 2018, in which former school groundskeeper Dewayne Johnson received millions of dollars in his Roundup lawsuit against the giant agricultural products manufacturer.
Although the Roundup verdict is intact, Johnson will receive significantly less than the $289.2 million originally awarded to him. As part of her decision, Judge Bolanos cut back the punitive damages – the portion of the award meant to punish Monsanto – by nearly $211 million. Even with the cut, however, Mr. Johnson and his family will still receive about $78.5 million.
Was your cancer caused by Roundup?
See if you are eligible for compensation
Why Did Monsanto Appeal the Roundup Verdict?
On October 10, Judge Bolanos issued a tentative ruling in favor of Monsanto's request for new trial through a legal device known as a "judgement notwithstanding verdict" (JNOV). While rare, such judgements can allow judges to override jury verdicts under certain circumstances. After her tentative ruling, the judge allowed both sides time to present additional arguments about why she should or should not grant Monsanto a new trial.
At issue for Monsanto was the $250 million in punitive damages awarded by the jury in the Roundup case. In its appeal, Monsanto made every argument it could to try and undermine the jury's verdict, including:
Questioning the validity of studies used to link Roundup with cancer
Attacking the diagnostic abilities of Mr. Johnson's doctor
Challenging expert testimony by other doctors used in the trial
Casting doubt on the legal theory used by the plaintiffs (called the "consumer expectation test")
Asserting the company's to know about the link between Roundup and cancer
Despite her tentative ruling earlier this month, Judge Bolanos was ultimately not convinced by Monsanto's arguments. In her final ruling on October 22, the judge upheld the verdict, denying Monsanto's request for a brand new trial.
Why Did the Judge Reduce the Verdict Amount?
Although Judge Bolanos ruled in favor of the plaintiff, she still held concerns about the amount of the punitive damages awarded by the jury. In the end, it came down to what was allowable by law and due process.
Punitive damages are meant to punish companies for actions that are willfully or knowingly  malicious or negligent. Because of this, standards for awarding punitive damages are significantly higher than standards for awarding compensatory damages (that is, money to pay for actual costs incurred from an injury).
In its appeal, Monsanto argued that even if the biochemical company did have a duty to warn consumers of the potential link between Roundup and cancer (a duty it vigorously denied), its actions were not motivated by malice or willful disregard for the safety of its customers. The jury did not see it that way, and ultimately the judge agreed with the jury by upholding the verdict.
However, the judge also thought that the amount of punitive damages awarded by the jury went far beyond the bounds of what is allowed by due process law and precedent. Of the original $289.2 million verdict, approximately $250 million was punitive. In her final decision, Judge Bolanos said that the punitive award could not exceed the compensatory award, and so she shaved back the amount so that each would be equal.
Dewayne Johnson Roundup Verdict Amounts
| | | |
| --- | --- | --- |
| Compensatory Damages | Punitive Damages | Final Roundup Verdict |
| $39.25 million | $39.25 million | $78.5 million |
What Comes Next for Roundup Lawsuits?
According to the most recent financial filings by Bayer – the international pharmaceutical company that purchased Monsanto earlier this year – the company is facing at least 8,700 Roundup lawsuits around the country. At least 580 of those are filed in federal courts as part of a multidistrict litigation.
With the Johnson verdict being upheld, chances are that many more Roundup lawsuits will be filed in the near term. If you or a loved one has received a cancer diagnosis after years of using Roundup or another glyphosate-based pesticide, you could be entitled to compensation. Get a free case review from an experienced law firm that can help you today.
Free Roundup Case Evaluation
Talk with a Product Liability Lawyer