$55 Million Ristesund Talc Verdict Continues J&J Losses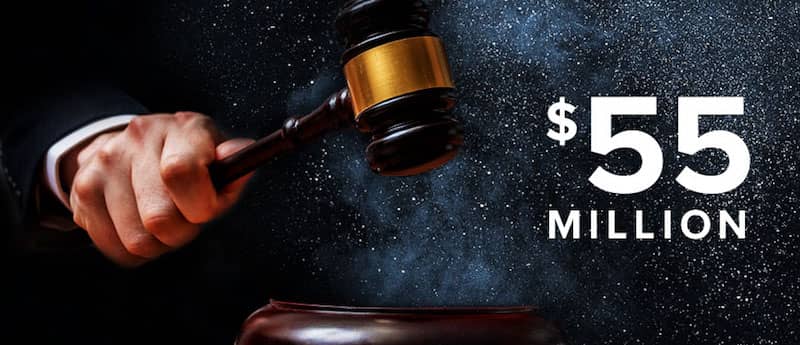 After 40 years of using Johnson & Johnson's Shower-to-Shower body powder and baby powder products for her feminine hygiene needs, Sioux Falls resident Gloria Ristesund received a stunning diagnosis: Stage I ovarian cancer. Only in her late 50s, Ristesund underwent a hysterectomy and the pathologist gave her the shocking news that talcum powder had been found in her ovaries.
J&J Lawsuits Everyone Should Know About
Johnson & Johnson Lawsuits
Ristesund's Case Against Johnson & Johnson
Ristesund's case was similar to thousands of other talcum powder lawsuits filed against Johnson & Johnson. It alleged that Ristesund's ovarian cancer was caused by talcum powder, which she had used for decades. The suit also alleged that Johnson & Johnson knew about the dangers of an increased risk of cancer and withheld that information from the public.
The jury agreed with Ms. Ristesund on many of her claims and awarded her $55 million: $5 million in compensatory damages and $50 million in punitive damages.
The verdict came just months after another Missouri jury awarded the family of Jacqueline Fox more than $70 million. Up until these two specific lawsuits against Johnson & Johnson, many talc claims against Johnson & Johnson had been dismissed or the court ruled in Johnson & Johnson's favor because of a lack of evidence presented by plaintiffs that linked their use of Shower-to-Shower and other talcum powder products manufactured by J&J to cancer.
Attorney Encourages J&J to Change Baby Powder Label
There really was no reason for them to leave this product on the market.
AL.com
Ristesund's attorney Ted Meadows issued a statement tying his client's verdict to other cases in which women have fought back against large pharmaceutical companies for the harm their negligence inflicted. "The second jury verdict affirms that Johnson & Johnson knew that its talcum powder products posed a risk to women's health," Meadows stated. "There really was no reason for them to leave this product on the market."
Sadly, much of these diagnoses could have been prevented had women been warned of the potential danger. "At the very least, they could have added a warning label to alert women to the risk of ovarian cancer. This verdict sends a message that the public is tired of corporations placing their profits over our health and trust." However, the massive corporation chose instead to continue spending millions of dollars advertising its products as safe to use.
Was J&J Involved in a Public Cover-Up?
Although Ristesund's defense team claimed that Johnson & Johnson conspired to keep information about the dangers of talcum powder out of the hands of the public, the jury in the Ristesund case did not agree. Nonetheless, further evidence came out during the trial showing that Johnson & Johnson knew about the risks of talcum powder-based products for more than 20 years.
Specifically, Ristesund's legal team presented an internal memo from Johnson & Johnson that jurors believed meant the company knew about the danger of talc and tried to influence regulatory boards. Jerome Kendrick, one of the jurors in the Ristesund case, claimed that Johnson & Johnson's internal memo helped him make up his mind. He expressed a belief that the company should have included a warning label on their product so that the public would be informed of any potential risk.
To this day, Johnson & Johnson still has not placed any kind of warning labels related to ovarian cancer on its talcum powder products like Shower-to-Shower Body Powder or Johnson's Baby Powder. Despite multimillion dollar verdicts like those awarded to Ristesund, the company continues to deny that its talc-based products pose any danger to women who use them on or near their genitals.
Will Johnson & Johnson Defend or Settle?
After the case, lawyers for Ristesund stated that they hoped the $55 million verdict - which came directly on the heels of another large award - would encourage Johnson & Johnson to stop defending their position in talc lawsuits and instead offer a settlement to those who have been affected.
However, Johnson & Johnson plans to defend itself against Ristesund and others, choosing instead to appeal this verdict. The company's official position is to continue claiming that its products are safe. According to spokesperson Carol Goodrich, the company believes in the safety of their products and that Ristesund's verdict goes against 30 years of research into their products.
Even so, the amount of money that is being handed to victims of ovarian cancer by juries across the country cannot be ignored. At some point, Johnson & Johnson may have no other choice but to settle rather than continue risking millions - perhaps even billions - of dollars awarded by juries.
If you or someone you love was diagnosed with ovarian cancer after years of using talcum-based products such as Shower-to-Shower, you may be eligible to file a lawsuit for medical expenses, lost wages, and pain and suffering.
Free Talcum Powder Case Review.
Connect with a lawyer now