Cerebral Palsy: Through My Eyes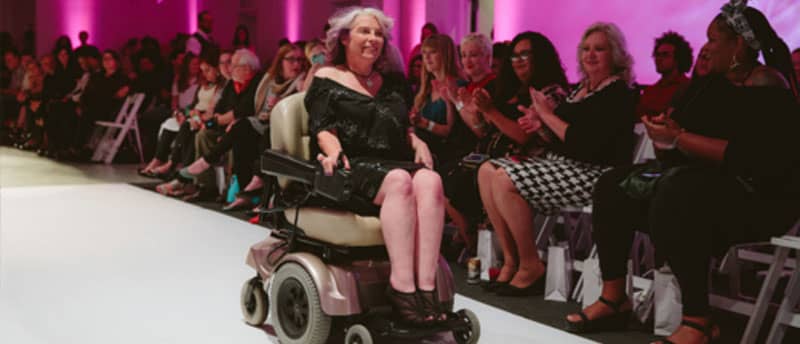 Today is World Cerebral Palsy Day, a movement to increase awareness about the #1 childhood motor function disorder. In our efforts to encourage open discussion in all topics, we reached out to influencers impacted by cerebral palsy, to get their views on the condition, misconceptions, and sources for help.
Today's interviewee is Alicia Searcy, the creator of Spashionista, Nashville's only disabled fashion blog. At 56, she's had a lot of experience dealing with the misconceptions surrounding cerebral palsy. Below, read how she's conquered her fears, taken life by the horns and brought disabilities to the forefront of fashion and style conversations!
Tell us a bit about yourself.
I'm 56 years old and the creator of Spashionista, a fashion blog based in Nashville, Tennessee. I'm also the Co-Founder and Executive Director of Fashion is for Every Body, a non-profit organization dedicated to promoting body-positivity for adults of all ages, sizes and physical abilities.
How has having CP impacted your life?
My particular manifestation of CP affects my extremities and my face. It results in an overall lack of fluidity of motion and does mean it takes me far longer to do most things than it would an able-bodied person.
I have very limited use of my left hand and have a great deal of difficulty with fine motor skills such as typing because consistently hit the wrong keys. Phone keyboards are especially challenging because they're so small. Certain buttons and clasps on clothing are impossible for me to fasten.
I also have facial tics and a slight speech impediment that makes dictation challenging. I can walk a bit but my gait is very unsteady so I use a walker or a motorized wheelchair. The aches and pains that are part of the aging process are amplified by my CP as well.
What's one thing you wish you knew when you were younger?
There are many things I wish I knew then! Ultimately, I wish I knew how good life could be despite having CP. That people bent on ridiculing or demeaning you are saying more about who they are than they are about you.
People bent on ridiculing or demeaning you are saying more about who they are than they are about you.
How has fashion played a role in your life?
Fashion has been a powerful tool for transformation. Sometime in my early 30s, I abandoned any notion of self-care and that was strongly reflected in my clothing choices. It wasn't unusual for me to be seen in misshapen, baggy, even ripped clothes. As a result, if I went out to eat or shop waitstaff and store clerks spoke to the people I was with rather than to me. "What does she want?" "What's her size?"
It was devastating, but it spurred me to make an effort so my outward appearance made me look more approachable and put-together. That turned into a genuine love of fashion and a deep connection with Nashville's fashion industry as well as a desire to help others using the transformative power of fashion.
How do you think the fashion industry needs to change to include people of all abilities?
A lot of elements have to be set in motion in order to bring about a sustainable level of change that benefit both the industry and people with disabilities. One the one hand, designers and manufacturers need to be open to creating quality adaptive garments that are attractive and affordable.
How do you deal with staring, inappropriate comments, pity, etc?
It used to bother me so much I'd go long periods of time without leaving the house. Now my life involves being in photo shoots and on runways so I worry if they don't stare! I still get "pitied" from time-to-time and the odd comment here and there. I usually give it right back to them if it's worth my time to correct them (and it often isn't).
On the other hand, people with disabilities need to be willing to change their buying habits from cheap, fast fashion to investing in fewer pieces of better quality and ease of dressing that suit their lifestyle. The market and the client both need to move towards each other if there's any hope of significant change.
What is, to you, the right way for someone to approach you if they have questions about you, or CP?
Just ask! I would much rather answer an honest, direct question than watch someone nervously looking for a "nice" way to call me disabled or ask about my disability. It's okay to call me "disabled" or "handicapped" (terms such as "differently-abled" and "handi-capable" are so condescending! Are my eyes "non-brown"? No; they're blue). People with disabilities - especially those with CP - should be open to answering questions and polite, non-repetitive offers of assistance graciously and completely. Because the alternative is an able bodied society so terrified of offending you they avoid you at all costs.
In hard times, who or what do you turn to for strength?
My better half, my dogs and my close friends.
What's your experience been like with doctors?
Not great, but I think that's because I am older and grew up during a time when very little was known about CP. As a young child I was given multiple EMG's (electromyography. A painful test to determine muscle response) in a theater full of medical students. It made me very leery of doctors in general and neurologists in particular! I steered fairly clear until my mid-40's when it became obvious I needed some help because my level of muscular pain was unacceptable.
Would would you say to young people dealing with CP?
Fight for the kind of life that you want! Do everything you can for yourself according to your level of capability. Don't let other people browbeat, discourage, or coddle you.
Cultivate your own interests and try to live as "mainstream" a life as possible. We don't live in a segregated world so don't self-segregate.
Do everything you can for yourself according to your level of capability.
What advice would you give caregivers?
Yours is a difficult job, but not as difficult as the life of the one who you are caring for. The internet is full of great resources, but it's also rife with fallacies. Verify what you read. And, please, don't infantilize your son/daughter/child with CP. I see that a lot; parents who treat their kids like dolls and refuse to allow them to look or act like adults. A twenty-five year old with the requisite intellectual skills should not be waiting to go on their first date or dressing like they're in middle school. You won't be around forever, and you're not protecting them by sheltering them from the world.
Why do you think CP is so misunderstood?
Because it is such a vast umbrella term for a myriad of symptoms that can manifest in so many different ways most people don't really know what they're looking at or how to deal with it. It is up to the individual with CP to be approachable - or to approach others themselves to the extent it's possible - and let their personality come through. The internet has been a great equalizer for many of us, serving as a tool that lets us reach many people at once. But the 'net isn't a substitute for IRL interactions. It is only through these that CP will become better understood by everyone.
About the Interviewee
Alicia Searcy is Nashville's only disabled fashion and style blogger. Born with Cerebral Palsy, Alicia's interest in fashion came from the desire to be taken seriously rather than dismissed at first glance because of her disability. She created her brand, Spashionista, in April 2012 to counter the lack of representation, empathy, and garment options in the fashion industry for women with disabilities, women over the age of 40, and non-sample-sized women. Alicia is also intent on shattering the stereotypical image of beauty as a photo and runway model. She also co-founded Fashion is for Every Body to broaden the message of self-care using style and fashion regardless of age, size, or ability through photo shoots and an annual runway show. You can find her on Instagram, Facebook and Youtube.
Photo Credit: Annette McNamara