Historic Roundup Verdict Awards $2 Billion to Couple with Cancer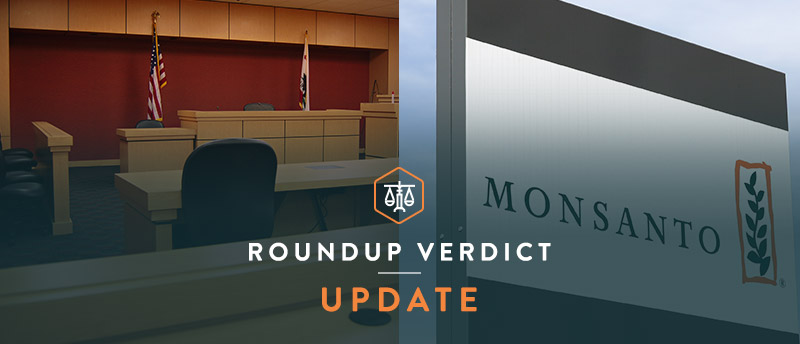 The latest verdict in a Roundup lawsuit comes with a jury award of more than $2 billion - that's right, billion with a B.
This is the third big Roundup verdict to go against Monsanto and its parent company, Bayer AG, within the last year. The first verdict awarded $289 million to a former school groundskeeper, though the award was eventually reduced to $78.5 million. The second Roundup cancer trial awarded $80 million to a California man in March, although the case is currently under appeal as Bayer hopes to get that amount reduced as well.
All three Roundup trials to reach a verdict so far involve the claims of plaintiffs who were diagnosed with non-Hodgkin's lymphoma after years of exposure to glyphosate, the active ingredient in Roundup. Although the scientific evidence for glyphosate's carcinogenic properties is disputed, the legal arguments used in these cases revolve around the fact that Monsanto failed to warn consumers of the potentially harmful effect of the chemical.
The Case of Alva and Alberta Pilliod
The plaintiffs in the most recent Roundup case are Alva (age 76) and Alberta Pilliod (age 74). The couple says they used Roundup regularly on their Northern California properties since 1982, with no awareness or understanding of the possible harm it could do.
However, in 2011, Alva was diagnosed with non-Hodgkin's lymphoma. Four short years later, in 2015, Alberta was diagnosed with the same exact form of cancer. Both Alva and Alberta were expected to die within a few months, but each managed to survive. Alberta was diagnosed with a recurrence in 2016, and has since been taking chemotherapy and other medications costing a total of $21,000 per month. The Pilliods' trial was originally supposed to take place much later, but they successfully petitioned for an earlier trial under a California law that allows ill plaintiffs more than 70 years old to move up their trial dates.
According to a press conference held by the Pilliods after the verdict was announced, the couple used Roundup on their property because they believed it was safe. As homeowners, they used the consumer version of the herbicide, which did not provide warnings about covering skin or using masks. Alberta Pilliod says she would use Roundup while wearing shorts, believing it was fine to do so since she had seen a man in television ads wearing shorts as well. The Pilliods used the weed killer approximately once per week across the four properties they owned.
The jury unanimously agreed that Monsanto had acted maliciously by refusing to look at the health effects of glyphosate. As a result, they awarded the couple $55 million in compensatory damages, and $1 billion each (for a total of $2 billion) in punitive damages. Both juries in the Johnson and Hardeman cases were also unanimous.
Pilliod Roundup Verdict Amounts
Compensatory Damages
Punitive Damages
Final Roundup Verdict
$55 million

$1 billion for Alva Pilliod
$1 billion for Alberta Pilliod

$2.055 billion
Upcoming Roundup Lawsuit Activity
As we have seen with other trials, a jury verdict is rarely the end of the road. Bayer and Monsanto have already announced that they plan to appeal this verdict, and a number of legal experts expect it to be reduced (though not necessarily thrown out altogether).
Bayer is also currently appealing the $78.5 million Johnson verdict (reduced from $289 million) from August 2018 and the $80 million Hardeman verdict from March 2019. It's unclear how long these appeals will take and how far they could go. One or more of them could ultimately wind up in front of the Supreme Court.
In another current Roundup case, Monsanto and the plaintiffs were ordered to seek out a mediator by the judge overseeing the multidistrict litigation. That trial was originally scheduled to begin on May 22, but the trial date has since been canceled. If the parties do find a mediator, it could resolve thousands of cases currently in federal court. Otherwise, the cases will continue to be tried one by one.
As for future cases, the next trial is set to begin in August in St. Louis. This will be the first Roundup trial held outside of California.