Legal Look: Monsanto Mediation, TVM Takedown and Talc Transfers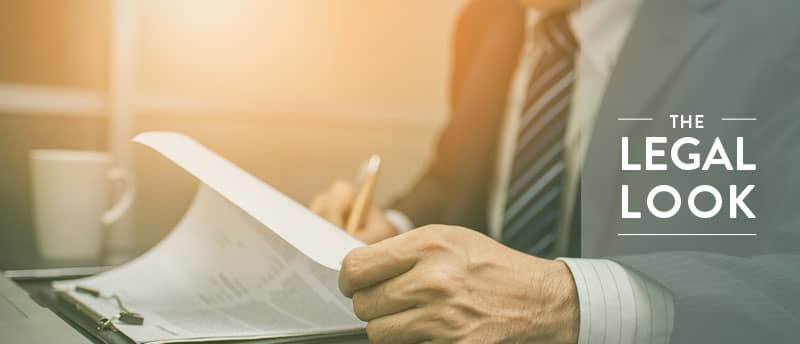 In this issue of the Legal Look we are examining a judge's order for Monsanto to mediate the latest Roundup lawsuit, the FDA's recent ban on pelvic mesh, a move to send talcum powder lawsuits to Delaware, and a former NYPD commissioner who is suing over a bad hip.
Monsanto Must Mediate
Bayer AG, the parent company of Monsanto, has repeatedly stated that the company refuses to settle any of the impending Roundup lawsuits against it. However, the multinational pharmaceutical and agricultural products corporation may no longer have a choice in the matter.
Last week, Judge Vince Chhabria of the U.S. District Court for the Northern District of California ordered participants in the latest Roundup trial to find a mediator they could both work with. If they can't find one, "the court will appoint someone," Judge Chhabria added.
Attempts to seek a mediated settlement are not unusual for multidistrict litigation, though in a lot of cases, the parties are already agreeable to the idea of settling. For the Roundup MDL, it looks like the judge believes time will be better spent organizing the current caseload of more than 11,200 lawsuits while the plaintiffs and defendants seek mediation. The success of the first two bellwether trials in the MDL showed that Bayer and Monsanto could be likely to continue losing, meaning that mediation might actually be the best option for the companies.
While a settlement is not necessarily guaranteed, some analysts believe any potential settlement could exceed $5 billion. The next court date is scheduled for May 22, where Judge Chhabria will check in with the parties' progress on finding a suitable mediator.
Are Talc Cases Headed to Delaware?
Johnson & Johnson is trying a new tactic in fighting thousands of talcum powder lawsuits: a change of venue. Last Friday, the company asked a federal judge to transfer more than 2,400 cases to the District of Delaware, bringing them together from the dozens of states where they are currently filed. All of these cases are related to asbestos contamination, which make up only about one-fifth of the more than 11,000 talcum powder lawsuits currently filed against the company
J&J cites the Chapter 11 bankruptcy proceedings of its talc supplier, Imerys Talc America, as the impetus for the company's request. The petition is based on a special law in the bankruptcy code that allows creditors to force lawsuits filed in state courts to be transferred to federal courts. Of course, J&J is also banking - literally - on the fact that it has historically fared better in federal courts than state courts.
At any rate, there is significant pressure on J&J to resolve these cases sooner rather than later. Late last month, the company settled three talc-related mesothelioma lawsuits out of the blue, despite its continued insistence that it would not settle any talc cases. Investors and regulators have both been hounding the company over falling stock prices and the increasing number of lawsuits Johnson & Johnson faces.
Talk to a talcum powder lawyer today
Claim your free case review now
FDA Bans Sales of Transvaginal Mesh
Speaking of J&J settlements, just this week the company also settled a pelvic mesh lawsuit for $9.9 million - which is nothing compared to the $120 million verdict levied against the company yesterday. According to the lawsuit, which was filed by the Washington State Attorney General under a consumer protection law, the company failed to properly disclose the risks of using surgical mesh for pelvic repair.
J&J is not the only company facing a growing number of transvaginal mesh lawsuits. Thousands of TVM lawsuits have also been filed against companies like Boston Scientific, C. R. Bard and American Medical Systems, among others.
And even more may be coming. On April 16, the U.S. Food and Drug Administration (FDA) issued an immediate ban on surgical mesh used for transvaginal repair of pelvic organ prolapse. According to the FDA's press release, companies that make TVM "have not demonstrated a reasonable assurance of safety and effectiveness for these devices." Women who have suffered painful complications from their mesh implants now likely have an even stronger case than they did before.
Former Head of NYPD/FDNY Sues Over Bad Hip Implant
Howard Safir, the former Commissioner of the New York City Police Department and Fire Department of the City of New York, is suing Wright Medical Technology over a bad hip. According to Safir, he was walking in BWI Airport when his hip device suddenly broke, requiring him to undergo emergency surgery.
Hip replacement lawsuits have been ongoing for years for a wide variety of reasons, including malfunctioning parts, allergic responses and other severe side effects. Problems over artificial hop components have caused many medical device makers to issue recalls. The faulty Wright hip component used in Commissioner Safir's joint replacement was the subject of a 2015 recall, according to the lawsuit.