Johnson & Johnson Settled Three Talc-Related Mesothelioma Lawsuits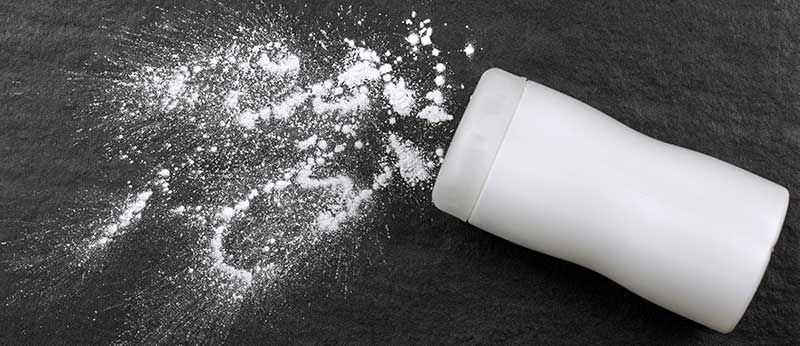 Lawyers for Johnson & Johnson settled several talcum powder lawsuits last week, creating abundant speculation about changes to their legal strategy. In keeping with their reputation as a company very slow or completely unwilling to settle product liability lawsuits, J&J had not settled any talcum powder cases prior to 2019. They settled one in January of this year, and three in one day last week.
Legal scholars and reporters have theorized that this may indicate a larger evolution of their approach to talcum powder cases. Some have even predicted additional settlements in the near future. If J&J do pursue more settlements moving forward, it may be useful to examine the common characteristics of these settled cases.
Did talcum powder contribute to your mesothelioma?
Talk to a lawyer for a free case review
J&J Settled Talc Cases Involving Mesothelioma
In a federal lawsuit in Oklahoma, Sharon Pipes alleged that 50 years of using J&J talcum powder products caused her peritoneal mesothelioma. Experts have repeatedly made linked asbestos exposure and development of the rare cancer affecting abdominal lining tissue. Pipes' case had been in the jury's hands for approximately three hours when the judge announced a confidential settlement agreement between litigants.
In Gail Koretoff's case, the 36-year-old blamed a lifetime of exposure to Johnson & Johnson talc products for her peritoneal mesothelioma. Her lawyers presented evidence indicating J&J officials knew about asbestos contamination in their talc products, but the defendant's lawyers insisted the products never contained any carcinogenic substances. Jurors deliberated for two days before the confidential settlement agreement was announced.
The third settlement came in another mesothelioma case previously scheduled for trial later this month. Jenny Shulman was diagnosed with peritoneal mesothelioma after years of using J&J's talcum powder as a feminine hygiene product. She won an important pre-trial victory when a judge refused to allow exclusion of her expert witness. The witness would have testified about finding asbestos and talc in Shulman's ovarian and fallopian tissue. J&J also settled her case last week, but the details remain confidential.
J&J Possibly Hoping to Avoid Another Multimillion Dollar Verdict
Johnson & Johnson officials have denied any plans to alter their litigation strategy regarding talcum powder lawsuits. They maintain the position that their products do not contain asbestos, nor has the company attempted to obscure the health risks of using their baby powder products. Despite this stance, juries have found J&J liable for mesothelioma and ovarian cancer in past trials.
In 2018, a jury awarded Joanne Anderson of Williams, Oregon $25.75 million in compensatory and punitive damages in her talcum powder lawsuit against J&J. Experts estimated that she had used the product over 10,000 times prior to her diagnosis with pleural mesothelioma. Jurors in the case found the evidence against Johnson & Johnson compelling and even went so far as to ask the court if they were able to require a warning on their baby powder in the future.
Given the similarities in these recently settled cases and that of Ms. Anderson, J&J may have wanted to avoid similar multimillion-dollar verdicts. If juror reports are accurate, at least one of the cases seemed close to a verdict for the plaintiff. Juror Frances Harris, who served on the Pipes jury said they were just a couple of votes from finding for the plaintiff. She noted that internal J&J  documents admitting to asbestos contamination in their talc products convinced her to find in favor of Pipes.
More than 20 talcum powder trials have been scheduled in the U.S. this year, and almost all of them involve plaintiffs with a mesothelioma diagnosis. If last week's events do indicate a broader strategy for J&J, we may see a flood of settlements in the coming months.
Were you diagnosed with mesothelioma?
Talk to a lawyer for a free case evaluation