$110 Million Slemp Talc Verdict Slams J&J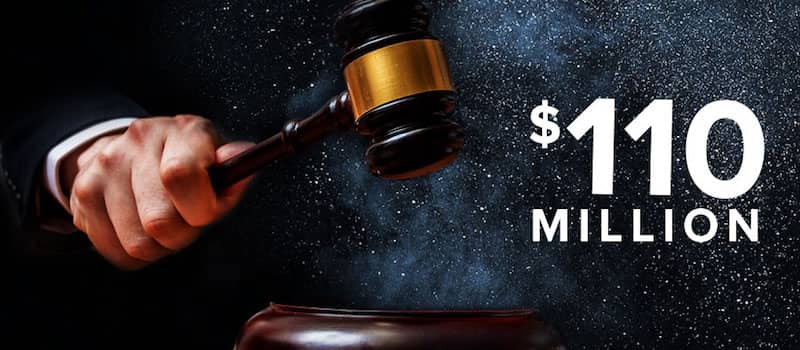 Another baby powder cancer headline made the news this week. When asked if Johnson & Johnson's talcum powder products were to blame for causing ovarian cancer, one more jury said yes. The $110.5 million verdict was announced on Thursday, May 4 in St. Louis, marking the largest settlement to date against J&J over it's Shower-to-Shower and Johnson's Baby Powder products.
Read More About Talc Lawsuits
Learn More
Verdicts Now Exceed $300 Million
There have been five talcum powder lawsuit verdicts handed down over the past 18 months deciding whether talc increases ovarian cancer risk when regularly used for feminine hygiene. In 2016, three consecutive juries in St. Louis found that Johnson & Johnson should be held liable for not warning women about the possible risks of using their products. These lawsuits produced settlements of approximately $72 million, $70 million and $55 million - and thousands of cases are still in the system.
The tide seemed to be turning for the baby powder manufacturer in March 2017 when a jury found in its favor. But just two months later, Lois Slemp ended the company's one-win streak when a jury awarded her $110 million, bringing the total cost of settlements against J&J to $307.6 million.
St. Louis has been a thorn in Johnson & Johnson's side with it's onslaught of talc verdicts. According to Missouri litigation rules, plaintiffs with no connection to the state are allowed to file lawsuits there. Because of this fact, J&J has been attempting to move talc litigation out of the state.
What's Next for Johnson & Johnson?
Even after this latest verdict, Johnson & Johnson refuses to admit that their talc-based products are dangerous to women, and they plan to appeal the decision. "We are preparing for additional trials this year and will continue to defend the safety of Johnson's Baby Powder,'' said Carol Goodrich, a spokesperson for J&J.
Given this stance, it seems the company will not recall it's Baby Powder and Shower-to-Shower products, which continue to be sold without any warning labels. Will these products suffer from so much bad publicity that the brand will eventually discontinue them over lackluster sales? This could be the best-case scenario for both consumers and Johnson & Johnson. It would rid store shelves of potentially harmful products, while at the same time giving J&J an "out" for pulling it's products without admitting fault.
Are Any Talc Products Safe?
Talc isn't inherently a toxic substance. It's been used in countless industries from food and drugs to cosmetics where it serves as an additive, friction reducer, and moisture absorber. Consumers have also found numerous home remedy applications--like keeping sand off your toes at the beach, and dissuading bugs from entering your kitchen. You'll even see it popping up on ingredient lists for products like bath bombs, deodorant and soaps.
While talc might be harmless in many applications, there are definitely situations in which using it could be a health risk. The exact mechanism by which talc contributes to the development of ovarian cancer is still unknown, so women should avoid using talc products around their genitals until further proof has been found. This includes feminine products dusted with talc, as well as bath bombs that use the ingredient. To be safe, seek out products that use cornstarch, rice or arrowroot powder instead.
Another concern with talc is the possible contamination from asbestos because the two are sourced near each other. Even though cosmetic talc is regularly tested, there are instances in which products still contain asbestos -- one such example is the recent recall of Justice Stores makeup.
If you believe that regular talcum powder use may have lead to your ovarian cancer diagnosis, click the link below to connect with a legal professional who can answer your questions for free.
Free Talcum Powder Case Review
Connect with a lawyer and get peace of mind with answers to all your questions.