The Rise (and Stumble) of JUUL Labs, Inc.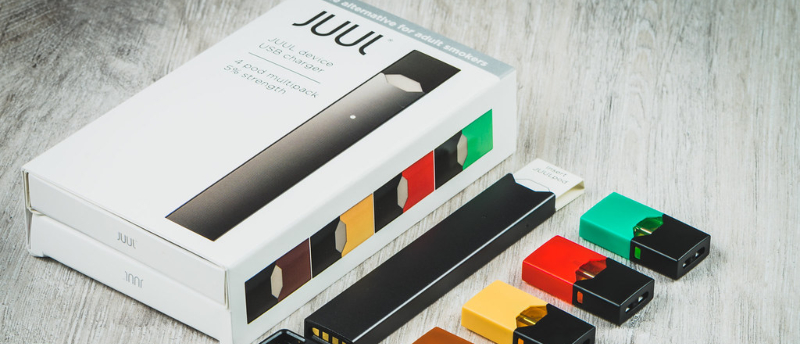 Since their initial release four years ago, JUUL e-cigarette devices have claimed nearly two-thirds of the e-cigarette market share in the United States. Today, the estimated worth of JUUL Labs, the company behind the popular product, is roughly $24 billion.
As the company grew into market dominance, it developed a cult-like following among teens and ex-cigarette users while accumulating lawsuits, bans and federal investigations.
In creating their distinctive e-cigarette device, JUUL accomplished what no other vaping device manufacturer had done previously: it made vaping alluring. But why did this device succeed where many others had failed? Initially, JUUL had three main advantages over its competitors -- a sleek design, effective marketing and generous financial resources.
The Origin of JUUL Labs
In 2015, Pax Labs -- a San Francisco-based electronic vaporizer company -- launched a new e-cigarette device, JUUL, to the U.S. market. In 2017, after experiencing success with the JUUL, Pax Labs created the spin-off company JUUL Labs to oversee the iconic device.
JUUL E-Cigarette Design
JUUL was introduced as a simple, sleek e-cigarette device that delivers the same dose of nicotine many smokers rely on, without the harmful ingredients and side effects found in combustible cigarettes.
At the time of JUUL's release, most other vaporizers on the market were either bulky or designed to look like cigarettes. However, JUUL's product founders, Adam Bowen and James Monsees took a new approach.
Rather than evoke the look or feel of a combustible cigarette, the pair -- both previous smokers -- aimed to design a whole new, positive nicotine experience for smokers, including creating a unique aesthetic for the device. In doing so, they hoped to make combustible cigarettes and their related health effects obsolete.
JUUL's unique design was a major breakthrough for the vaping industry. It persuaded many smokers to switch to vaping, and it invited non-smokers to indulge in tobacco. Unfortunately, this is where JUUL Labs also hit a snag.
Apart from gaining new adult users, JUUL's design was also enticing to teens. The small device, reminiscent of a flash drive, allowed teens to vape inconspicuously. Many e-cigarette critics have pointed to the unobtrusive JUUL design as a contributing factor in the teen vaping epidemic.
JUUL's Marketing Tactics
Despite the company's stated aim of selling devices to current, adult smokers, JUUL's early marketing campaigns targeted a much younger crowd. Early ad campaigns showed happy, young models laughing with the sleek vape device in hand. These ad campaigns attracted a younger demographic to JUUL products, and sales accelerated rapidly. In 2016 alone, JUUL e-cigarette and pod sales increased by 700%.
Nevertheless, many critics of the vape devices point to this early marketing as the catalyst in the boom of underaged vaping. By early 2018, teen vaping was declared a public health crisis.
Government agencies, schools, and consumers launched lawsuits and investigations into how JUUL Labs' marketing and sales habits encouraged teen vaping. Over the course of the last year, the vape company responded to these allegations by shutting down its social media accounts, limiting the sale of its more popular, candy-like flavors, and modifying its marketing strategy.
In a revised marketing strategy, JUUL Labs went back to the company's original mission and attempted to market the vape devices as a healthier, safe alternative to combustible cigarettes. The marketing campaigns targeted current smokers, touting the health benefits of switching to JUUL vape devices.
However, this new strategy was not as successful as their earlier marketing campaigns, and--according to federal officials--the new tactic broke the law. In a warning letter, the U.S. Food and Drug Administration (FDA), notified JUUL Labs of the legal requirements associated with their new promotional tactics.
In order for the company to legally market the device for reduced risk, they needed to submit scientific evidence to the FDA. Not only did JUUL Labs fail to provide such evidence prior to marketing their product as a safe alternative to cigarettes, but company representatives also made these claims to minors. This, in turn, gave a false perception of safety to potential users, including juveniles.
The FDA & E-Cigarette Regulations
Currently, JUUL and many other e-cigarette devices are not approved by the FDA. The FDA did not begin regulating e-cigarette devices until 2016, when the agency enacted requirements for e-cigarette companies to retroactively apply for approval. E-cigarette manufacturers now have until May 12, 2020, to apply for premarket authorization from the FDA. Going forward, new e-cigarette devices must have marketing authorization from the FDA before they can be sold in the U.S. market.
JUUL's Investor Strategies
In addition to their success in marketing -- legal or not -- JUUL Labs also succeeded in raising capital and gaining investors, setting them apart from other e-cigarette manufacturers.
The company's most recent capital win came in December 2018. Altria -- the maker of Marlboro cigarettes -- invested $12.8 billion into JUUL Labs, purchasing a 35% share in the vape company. This investment, along with others, boosted the value of JUUL Labs to an estimated $38 billion in 2018.
Despite these previous wins, JUUL may find it harder to collect capital and investors if the company continues to generate lawsuits, bans, investigations and scandals. Nearly a year after Altria invested in JUUL Labs, the tobacco company wrote down its investment by $4.5 billion in the third quarter. After Altria's write down, JUUL Labs is now valued at $24 billion -- a far cry from the $38 billion it was valued at a little less than a year ago.
---
In four years, JUUL Labs sparked a vaping sensation across the country and dominated the industry. Though they had several advantages over the competition, the strategies that JUUL Labs employed to boost sales have ultimately backfired. According to media reports, the company is now dealing with internal turmoil and turnover, a number of active e-cigarette lawsuits by consumers, and a dramatic shift in public perception of the company and the vaping industry as a whole. Only time will tell how JUUL Labs will respond to the challenges they currently face.