States Respond to Vaping Epidemic | Legislation, Investigations and Lawsuits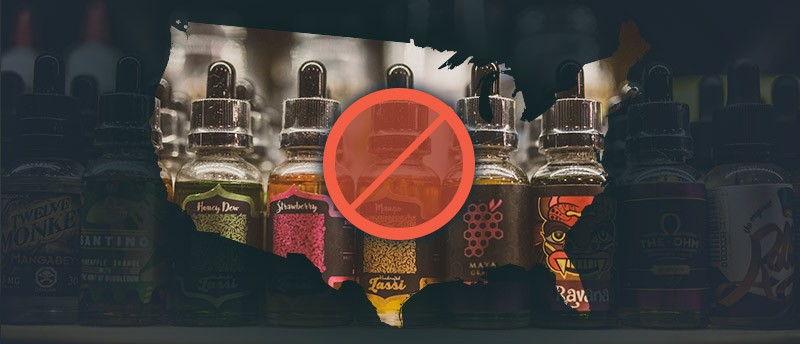 Michigan is slated to be the first state to ban the sale of flavored e-cigarette products, responding to the recent reports of a mysterious vaping-related illness sweeping the country. Meanwhile, e-cigarette manufacturers such as JUUL are facing state and federal investigations, a lawsuit by the attorney general of North Carolina and numerous e-cigarette lawsuits filed by consumers.
Michigan Bans Flavored E-Cigarettes
On September 4, 2019, Michigan Governor Gretchen Whitmer (D) officially announced the state ban on flavored e-cigarette products. This move comes after the Michigan State Health Department declared youth vaping a public health emergency. The ban coincides with a string of reported vaping-related illnesses across the country. On September 12, 2019, the Centers for Disease Control and Prevention (CDC) acknowledged 380 cases of "confirmed and probable" lung disease attributed to vaping. Six deaths caused by vaping-related lung damage have been reported as well.
Michigan e-cigarette sellers--including online and brick-and-mortar stores--have 30 days to comply with the rules of the ban. Once in effect, the ban will last six months, with an option for renewal at the governor's discretion. In an attempt to curb teen vaping, Michigan's ban specifically targets flavored vaping products, which tend to attract younger users. Additionally, the ban includes mint and menthol flavors.
Michigan may prove to be the first of many states taking legislative action against e-cigarettes, but other states are set to take action. On September 15, 2019, New York Governor Andrew Cuomo announced an emergency executive action to ban flavored vaping products in New York State.
Municipal Bans
Although Michigan is the first state to announce a ban, it follows in the footsteps of at least 37 cities across the United States that have enacted similar bans. For example, in June 2019, San Francisco banned the sale and distribution of e-cigarettes entirely. The ban in San Francisco will go into effect early next year and remain active until the U.S Food and Drug Administration (FDA)  authorizes e-cigarettes. San Francisco was not the first city to institute a ban, but it was a significant decision for the city, as one of the largest e-cigarette companies, JUUL, is headquartered in San Francisco.
Apart from bans, 475 cities and 18 states have raised the legal age to buy tobacco products, including e-cigarettes, to 21.
Criticism of the Bans
As public health organizations and anti-vaping advocates celebrate bans on vaping products, critics argue that limiting the sale of e-cigarettes negatively affects adults who are using the products to quit traditional cigarettes. Some fear that greater restrictions on e-cigarettes will lead to a rise in traditional tobacco cigarette use.
Despite the concerns of critics, the FDA is also considering guidelines that would ban flavored e-cigarette products nationwide.
States Investigate E-Cigarette Companies
Long before victims fell ill from vaping-related lung damage, state governments scrutinized the safety of vaping products and the marketing practices of e-cigarette companies. In May 2019, the Massachusetts attorney general launched an investigation into JUUL's marketing tactics, as public concern grew regarding the number of teen users. Four other state attorney generals, representing Connecticut, Illinois, the District of Columbia, and Colorado, have announced similar actions in recent months.
Apart from safety, many of these investigations focus on the company's marketing practices, which are allegedly geared toward younger users, and advertising claims that position JUUL vape products as a smoking-cessation tool.
Federal Investigations
In addition to state-level investigations, there are several federal investigations. The FDA has been investigating the safety of vaping products and the potential side effect of seizures since earlier this year. However, the agency recently began a separate inquiry into the company's marketing claims. The FDA sent a warning letter to JUUL, just days after the company testified before the U.S. House of Representatives, stating that JUUL had illegally promoted their vaping products as a safer alternative to traditional cigarettes, without regulatory approval from the FDA.
Apart from the FDA, JUUL and other e-cigarette companies face investigations from a subcommittee of the House and the U.S. Federal Trade Commission (FTC).
North Carolina AG Sues 8 E-Cigarette Companies
North Carolina Attorney General Josh Stein took his investigations one step further at the end of the August, announcing a lawsuit against eight e-cigarette companies. The lawsuits focus on the companies' deceptive and dangerous marketing tactics aimed at child and teen consumers. In May 2019, Stein filed a similar lawsuit against JUUL.
With North Carolina setting the precedent, other states may follow suit and take legal action as investigations move forward.
Consumer Lawsuits
Following a rise of illnesses and injuries related to vaping and e-cigarette devices, consumers are also taking a legal stand against e-cigarette companies. E-cigarette users and parents have filed countless consumer lawsuits against JUUL and other vape companies. The number of lawsuits is steadily increasing, as more people fall ill from vaping.