Mysterious Vaping-Related Lung Disease Turns Fatal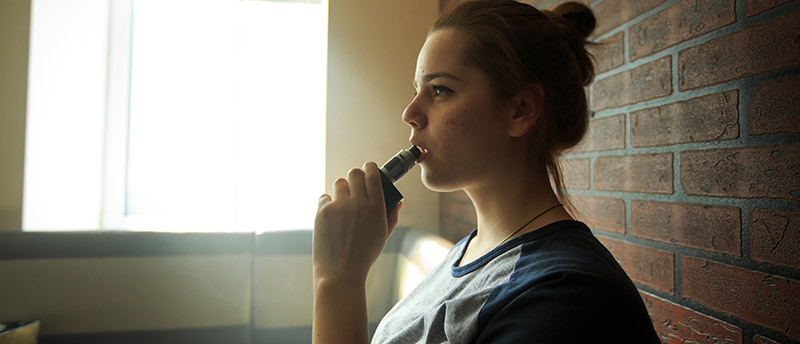 Nearly a year ago, the U.S. Food and Drug Administration (FDA) deemed teen vaping an epidemic plaguing our youth. At the time, the FDA was referring to the rapidly increasing rate of e-cigarette use among high school and middle school students. However, a year later, the consequences of this vaping epidemic have turned fatal, as the Illinois Department of Public Health announced the first death attributed to a vaping-related respiratory illness.
Vaping-Related Respiratory Illness
In late July, eight Wisconsin teens were hospitalized with severe lung damage attributed to vaping. One month later, 193 cases of vaping-related respiratory illnesses have been reported in 22 states. Several state health departments are investigating other potential cases as the number of patients continues to rise. For example, in the state of Utah, cases of vaping-related lung disease jumped from five to 21 cases in just one week.
Hospitalized patients share symptoms like difficulty breathing, chest pain, vomiting, fatigue and extensive lung damage resembling an inhalation injury. Numerous patients have suffered enough lung damage to cause significant scarring. Many patients have been hospitalized and treated with oxygen or put on ventilators to help with breathing. Although treatment has helped most patients, the potential long-term health effects are unknown.
Illinois is the first state to announce a fatality linked to these vaping-related illnesses, but with the recent spike in cases, this fatality may not be an anomaly.
Discover Why People Are Suing Vape Companies
Learn More About E-cigarette Lawsuits
Speculation Around Vaping Illness
So far, the investigations have identified e-cigarette use as the only common denominator among the nearly 200 cases of similar illnesses. Officials have not pinpointed one specific e-cigarette device or vaping product as the root of all the illnesses. Although some theorize the pulmonary damage could result from vaping the cannabis compound tetrahydrocannabinol (THC), these illnesses have not been conclusively traced back to a single substance, like THC or an e-cigarette ingredient, such as nicotine.
There has also been some speculation about the cases of lung damage resulting from vape-liquid contamination or device defects. Despite the fact that e-cigarette devices have been commercially sold since the mid-2000s, the vaping industry's recent spike in popularity has led to a boom of new product development. Unfortunately, regulation of the vaping industry has lagged far behind vaping product development in America. New devices and liquids can enter the market with little to no safety testing or review. Even before these cases of lung disease were reported, researchers had tied the devices and related chemicals to severe health risks.
Although the recent industry boom has benefited large vape companies like JUUL, it has also allowed counterfeit devices and unlicensed vape liquids to enter the market. Additionally, health officials worry that these illnesses may have been caused by users filling their vape pods with homemade concoctions.
National Response to Reported Vaping Illnesses
This uptick in cases of vaping-related lung damage has caused concern among healthcare professionals, legislators and the general public, as the country demands answers.
Medical Investigations of Vaping-Related Illnesses
Currently, officials lack an effective tracking method for monitoring all reported cases. This makes it difficult to pinpoint any common cause(s). State health departments are handling the majority of the investigations into these illnesses. However, because reports of these vaping-related illnesses are still relatively recent, similar cases may be misdiagnosed or not reported to state health departments.
The FDA and the Centers for Disease Control and Prevention (CDC) are lending resources to state health departments to aid in the individual investigations and create a broader network of communication across the country. These increased surveillance efforts could determine the shared cause(s) of these vaping illnesses in time to prevent further injuries and loss of life.
U.S. House Energy and Commerce Committee Investigates
Following CDC reports of vaping-related lung disease, the U.S. House Energy and Commerce Committee sent letters to four major e-cigarette companies--including JUUL. In the letter to JUUL, the U.S. lawmakers asked the company to provide relevant study data pertaining to the health effects of the company's vaping products. The companies were asked to submit their responses by September 20, 2019.
Public Concern Surrounding Vaping
While e-cigarette use has grown among teens and young adults, many parents, health officials and legislators have fought the rising trend due to concerns of health and safety related to vaping. With the recently reported illnesses, public dissent has grown. In New York City, parents and activists protested outside of JUUL offices recently following reports of this most recent rash of vaping-related illnesses.
Parents and consumers have also filed lawsuits against vaping companies in several states for the harm caused by vaping products.