Sartan Blood Pressure Drug Lawsuits Gaining Traction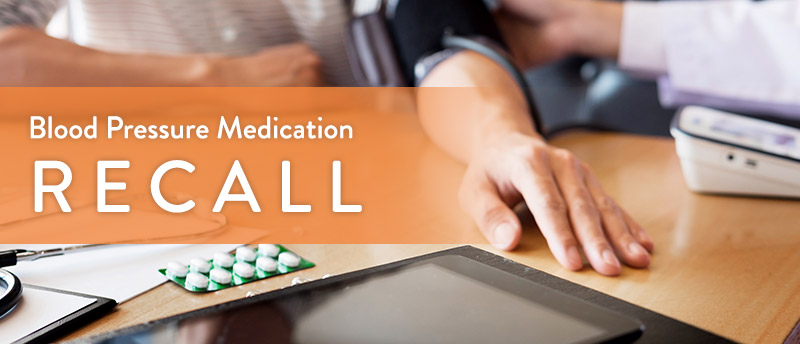 Valsartan is not the only sartan-based blood pressure medication to raise concerns in recent months. Since the U.S. Food and Drug Administration (FDA) started announcing valsartan recalls in July 2018, at least two other sartans have had voluntary recalls issued for contamination of the carcinogens NDMA, NDEA and NMBA. These include:
Losartan (Cozaar, Hyzaar)
Irbesartan (Avapro, Avalide)
Although not as widespread as valsartan lawsuits, some lawsuits have been filed against manufacturers for these other blood pressure drugs based on the expanded recalls. This post provides some more information about the lawsuits for sartan blood pressure medication other than valsartan.
Concerned about carcinogens in your blood pressure meds?
Talk to a prescription drug lawyer today
Losartan Lawsuits
After the initial valsartan recall was announced, some doctors switched their patients to losartan, which is in the same class of blood pressure medications (angiotensin II receptor blockers, or ARBs). As it turned out, however, some of the same cancer-causing contaminants affecting valsartan were also found in certain batches of losartan, causing a recall of that drug as well. In March 2019, a third possible carcinogen - N-Methylnitrosobutyric acid (NMBA) was discovered in some batches of losartan from Hetero Labs Limited, a generic drug maker located in India, prompting yet another expansion of the drug's recall.
Losartan is actually in much wider use than valsartan, with nearly 50 million prescriptions per year (vs. 8.4 million for valsartan) as of 2016. Almost 10 million more people are prescribed the drug with a combination of hydrochlorothiazide, a diuretic that is also used to control blood pressure. Although in wider use, fewer lots of losartan have been recalled due to NDMA/NDEA contamination, making the risk of exposure somewhat less for individuals who take the drug.
Now, losartan lawsuits are starting to be filed for the same reasons and side effects as valsartan lawsuits. This includes the diagnosis of certain types of cancer, including colorectal cancer, intestinal cancer, liver cancer and stomach cancer.
Irbesartan Lawsuits
Although some lots of irbesartan have also been recalled due to NDMA and NDEA contamination, there has been little action yet on the legal front. This is likely due to the fact that irbesartan is used by fewer people (3.6 million) than either valsartan or losartan, and fewer lots of it have been identified as containing cancer-causing contaminants.
However, if sartan recalls continue to expand, we could start seeing irbesartan lawsuits appear in courts. Depending on how many irbesartan lawsuits get filed, they could wind up in federal court as part of a multidistrict litigation covering one or more of the sartan-based ARBs.
Olmesartan Lawsuits
Olmesartan (brand name Benicar) is another ARB blood pressure drug that has been the subject of legal claims for several years now due to links between the drug and dangerous gastrointestinal side effects, including sprue-like enteropathy. Those Benicar lawsuits are unrelated to the current sartan recalls tied to NDMA, NDEA and NMBA.
Nonetheless, the FDA has continued to keep an eye on olmesartan, candesartan, and other sartans manufactured by Hetero Labs/Camber Pharmaceuticals, Aurobindo Pharma USA, Zhejiang Huahai Pharmaceuticals and other drugmakers involved in the recent spate of recalls. The FDA drug safety communication includes interim limits on acceptable amounts of the three carcinogens at the heart of the recalls for all sartan-based drugs, including olmesartan and some of the other ARBs that have not yet been recalled. If levels exceed interim limits for any of these other sartan drugs, we could see more recalls issued - and more lawsuits filed.
It is worth noting that Aurobindo Pharma USA recalled more than 4,400 bottles of amlodipine and olmesartan medoxomil back in November 2018. This recall was due to discoloration of the pills and was unrelated to the NDMA/NDEA/NMBA recalls.
People Are Filing Valsartan Lawsuits
Discover Why So Many Valsartan Lawsuits Have Been Filed
What to Do If You Take a Sartan ARB Prescription
If you take any of the blood pressure drugs that are being recalled - valsartan, losartan, irbesartan or olmesartan - here are some things you should do:
Important: You should never stop taking a prescription medication unless directed to do so by your doctor.