The Legal Look: Snortable Chocolate & Talc Bellwether Trials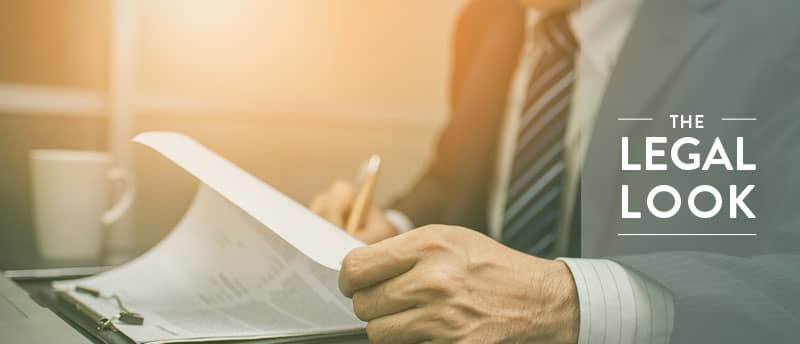 The Supreme Court may be on summer break, but that doesn't mean that things have slowed down in the legal world. With new products hitting the markets and new bellwether cases on the rise, there was plenty of news to keep us busy. Plus this week, we take a look into some policy changes in consideration on Capitol Hill regarding FDA regulations and Nuclear Waste cleanup directives.
Talcum Powder Bellwether Trial Begins in California
The first talcum powder lawsuit in the state of California against Johnson & Johnson started on July 10. Plaintiff Eva Echeverria, like many others in suits against the industry leader, claims that Johnson & Johnson knew about studies linking talcum powder to ovarian cancer and continued to market their products as safe. Out of five previous bellwether trials, four were found in favor of the plaintiffs, with only one being found in favor of Johnson & Johnson.
Learn More About Talcum Powder Lawsuits
Learn More
All-Natural Paint Claims Settled by Benjamin Moore and 3 Others
Benjamin Moore, Imperial Paints, ICP Construction Inc. and YOLO Colorhouse LLC settled with the Federal Trade Commission last week regarding their "all natural" paint lines. The companies were accused of deceptively framing their paints as zero-emission and free of volatile organic compounds (VOCs), which are released during painting and drying and can be dangerous, especially to pregnant women and babies. Benjamin Moore and ICP Construction also admitted that the environmental seals on paint packaging were given to the line by the companies themselves, not external agencies.
Blistex Case "Defies Common Sense," Dismissed by Judge
U.S. District Judge Elaine E. Bucklo dismissed a proposed class action lawsuit against Blistex, saying that the case lacked "common sense."  Alana Hillen had brought the case forward, arguing that Blistex was giving customers less than they paid for due to a design flaw that made it difficult to get all the product out of the ointment packaging. She claimed that the hollow tip of the ointment tube "retains a significant volume of empty space, especially in comparison to the volume of the tube." Blistex argued that this suit did not have standing, as they were not defrauding or deceiving consumers. Judge Bucklo dismissed the case entirely.
Snortable Chocolate Faces Backlash
Coco Loko is the newest craze in snortable powders, and is facing serious opposition from medical professionals and Congress members alike. Doctors are taking this opportunity to urge people not to snort anything, because of the dangers of inflammation and infection. Senate Minority Leader Chuck Schumer is calling for the FDA to "wake up" and launch an investigation on the product, which claims to give users a short "high" via the cacao powder's natural caffeine load. The FDA currently does not regulate this product because it is marketed as a supplement. Nick Anderson, the CEO of Legal Lean, the company that produces Coco Loko, has confirmed that the product has not been tested by professionals.
Chipotle Food Safety Issues Scare Investors
After suffering multiple problems with food-borne illnesses that caused hundreds of people to get sick across 14 states, Chipotle is back in the headlines as 13 confirmed cases of norovirus have been linked to the Mexican food chain's locations in Virginia. All of the bad press and concerns over falling sales have caused the company's shareholders to worry about the fast-food restaurant's long-term viability, with shares falling significantly in the last year or so. Just last month, Chipotle food-safety officials met with USDA regulators in Washington to discuss the ongoing problems, but that wasn't enough to stave yet further drops in the stock price this week as the company faced yet another outbreak.
FDA Agreement on Medical Device Malfunctions Renegotiated
The newest draft of an ongoing agreement between the FDA and industry executives will relax regulations on product malfunction reporting. Both previous and current agreements require notification of "adverse events," including injury and death from a product malfunction. Previously, this agreement stated that manufacturers were required to report device issues within 30 days, regardless of adverse events. After negotiations, the new agreement allows companies to report malfunctions only once every 3 months.
FDA Issues New Medical Device Regulations
The FDA Recently Issued New Rules for Monitoring Medical Devices
Nuclear Waste Policy Amendments Act of 2017
The proposed act introduced in the House changes the 1987 Nuclear Waste Policy Act to reinstate Yucca Mountain in Nevada as the primary candidate for a permanent resting site for nuclear waste. It also allows for temporary or interim storage facilities to be used, and for facilities not governmentally owned to be contracted by the Department of Energy for this purpose. Further, the act makes changes to the funding for nuclear waste programs and allows "local stakeholders" to engage directly with the DOE on waste solutions.
Opponents to the bill cite the Yucca Mountain as unsuitable both for environmental reasons, and because the mountain is part of a sacred area for Native American tribes. They also argue that the "interim" storage facilities may become de facto permanent nuclear waste sites for companies.
FDA Reauthorization Act of 2017 Passes the House
This bill which passed in the House reauthorizes four user fee programs, under which industry leaders pay a portion of the costs for the FDA's premarket reviews of products. The four reinstated programs are:
The Generic Drug User Fee Amendments (GDUFA)
The Prescription Drug User Fee Amendments (PDUFA)
The Biosimilar User Fee Amendments (BsUFA)
The Medical Device User Fee Amendments (MDUFA).
Because companies creating these products benefit directly from the review process, the bill's sponsors argue that they should fund the process as well. A primary goal of user fees is to expedite the review process and reduce drug and device costs by allowing generic and biosimilar products to get to the market quicker.