What to Do if You're Injured at Work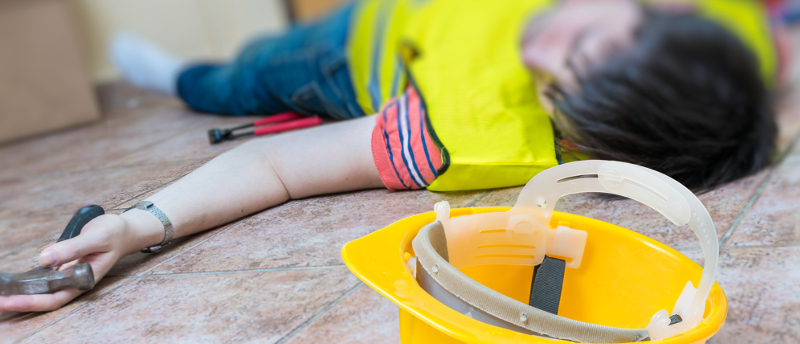 Workplace injuries, even those that are preventable are incredibly common. According to the National Safety Council, a worker is injured every seven seconds. Understanding how to properly respond to a workplace injury can prevent unwanted stress and confusion should you suffer an injury at work.
Learn More About Construction Accidents
Recognizing a Workplace Injury
Put simply, a workplace injury occurs when an employee suffers harm while fulfilling their job. This could happen any number of ways, such as:
A vehicle or motorcycle accident
Handling harmful substances
Machinery or equipment malfunction
Unsafe working conditions
Repetitive motion
It also doesn't matter if the injury occurs while you are working onsite or offsite. Consider a person who drives for a living like a courier or chauffeur. If that person is injured in a car or truck accident, it may still be considered a workplace injury because they were harmed while doing their job despite not being at the office or company headquarters.
Seeking Medical Attention
If your injury requires emergency medical attention, seek help immediately.
If your injury requires emergency medical attention, seek help immediately and report the situation later.
For injuries where emergency medical help is not required, consulting a physician not approved by your company or by your state's Workers' Compensation Board may result in you paying for your own medical treatment. This is why it's a good idea to talk to your supervisor or HR representative about your company's policies before an injury occurs.
Some companies would prefer that you see a company-approved doctor for treatment in the event of workplace injury. Additionally, following your company's policies in this regard may help you avoid any actions that could complicate your claim later on.
If you are a federal employee covered by the Federal Employees' Compensation Act (FECA), you may choose your own physician initially though you may be asked to see an approved medical provider for a second opinion.
Reporting the Injury
After an injury at work takes place, it is extremely important to report the incident to your supervisor and/or employer. The initial time frame that an employee has to file this report varies state by state. Some states require that you report your injury to your employer in as little time as 3 business days. You can speak with your supervisor, an HR representative, or research your state's laws online to find out how long you have to submit your report.
State laws also vary on how you should report an injury. Some states require a written account of the incident while others will accept verbal reports. You might consider filing a written report even if you live in a state where a verbal notice is allowed. Submitting a dated and signed written report and keeping a copy for your own records could help you in the long run should complications arise with your claim.
Filing a Claim
Your next step is to file a claim. First and foremost, a workers' compensation claim is not a lawsuit. Workers' compensation is a form of insurance, and by filing a claim you are requesting certain benefits to help you while you recover from the injury.
Like the initial report, the statute of limitations on filing a claim will differ from state to state. Be sure that you submit the claim on time. Otherwise, you may risk forfeiting your right to workers' compensation benefits.
Once you've notified your employer of the incident, they should provide you with a claim form. Your doctor or the hospital where you were treated may also provide you with a form. However, if you do not receive a form, contact your state's Workers' Compensation Office. If you have any difficulty filing your claim, it may be in your best interest to speak with a trained work injury attorney.
Claim Form Checklist
Complete only the "Employee" section
Sign and date the form
Keep a copy for your personal records
Submit the claim form to your employer promptly
Once approved by the insurance company, workers' compensation can apply to the cost of medical care, some portion of lost wages, disability benefits and survivor benefits.
Workers' Compensation Appeals
If your claim is denied for any reason by your employer or insurance company, you always have a right to file for an appeal. Review your state's workers' compensation guidelines to learn how you should go about appealing your denied claim.
Considering a Work Injury Lawsuit
Apart from filing a workers' compensation claim, depending on your situation you might be eligible to file a work injury lawsuit as well. A work injury attorney can help you determine if you are eligible to file a lawsuit.
Similar to filing a claim, a work injury lawsuit must be filed in a timely manner based on your state's statute of limitations. Before filing a lawsuit, you would also need to discuss who you would be suing in a work injury claim. Many work injury lawsuits name a third-party defendant rather than the injured party's employer.
For example, a worker injured on a construction site after a piece of equipment fails could file both a workers' compensation claim with their employer's insurance company and a work injury lawsuit against the manufacturer of the defective equipment.
You might also file a work injury lawsuit if your employer doesn't have workers' compensation insurance to help pay for medical bills and lost wages.
Consult a work injury lawyer about the best options available for you and your situation.
Were you injured at work?
Speak with a lawyer about your options today
Recovering From Your Injury
After filing a claim or lawsuit, your number one priority should be recovery. Follow your doctor's instructions for a healthy recovery, and don't return to work without your doctor's approval. Remember that upon returning to work, your employer cannot discriminate against you for the injury itself or anything that took place during the claims process. If they do, you might consider seeking legal counsel to protect your rights.
For more answers to the most commonly asked questions regarding workers' compensation, visit our Workers' Compensation FAQ.