Legal Look: Monsanto's Mortality Maneuver, Florida's New Evidence Standard & $300M Talc Mesothelioma Verdict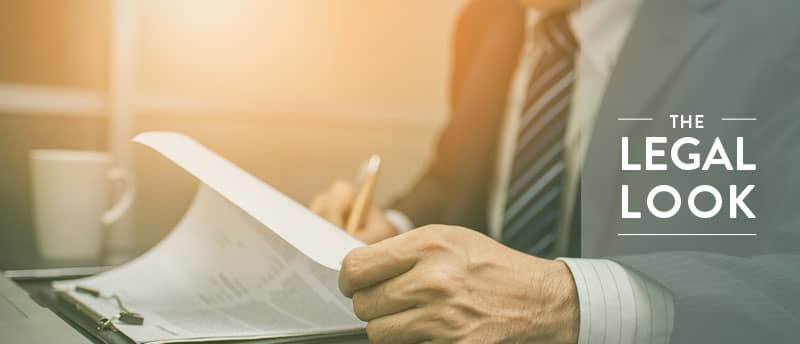 The current issue of the Legal Look reviews a recent bid by Monsanto to pare down the Dewayne Johnson verdict, the adoption of a new evidence standard by the Florida Supreme Court, and a massive verdict against Johnson & Johnson in a talcum powder mesothelioma case.
Bayer Wants to Pay Less Because Victim Will Die Soon
The first big verdict in a Roundup lawsuit came last August, when Dewayne Johnson was awarded $289 million by a California jury. The jury deemed Monsanto and its parent company Bayer responsible for Johnson's cancer diagnosis, and the agribusiness company appealed, asking for a new trial. Although that appeal was denied, the judge cut the verdict down to $78.5 million.
Now, Bayer wants that amount reduced even more because - it argues - the former school groundskeeper is going to die soon, anyway. During the trial, Johnson's doctor projected that his patient would not live beyond December 2019, due to the non-Hodgkin's lymphoma allegedly caused by Roundup. Because of that short life expectancy, Monsanto and Bayer argue that the verdict amount should be reduced by about $30 million.
In the latest appeal, Monsanto and Bayer unsurprisingly argue that the punitive damages award of $39 million, already trimmed down from $250 million, should be cut even further. The company maintains its stance that glyphosate - the active ingredient in Roundup - does not cause cancer, relying on classifications by regulatory agencies like the U.S. Environmental Protection Agency. However, studies continue to show that glyphosate and other ingredients in Roundup are potentially very dangerous, including a recent study that showed serious harmful effects to later generations.
Whether Monsanto and Bayer win their appeal remains to be seen. Stay on top of the latest developments with our Roundup verdict timeline.
Florida Supreme Court Adopts Daubert Standard
In a recent decision, the Florida State Supreme Court reversed an earlier ruling from 2017 that had prevented the state from adopting an evidence standard for expert witnesses known as the Daubert standard. As a result, it may now be harder for some expert witness testimony to be introduced in certain trials, including personal injury lawsuits.
Previously, Florida had used a different standard (the Frye standard), which applied only to "new or novel" scientific techniques. The Daubert standard is more restrictive, allowing judges to determine whether or not expert witness testimony is sufficiently "scientific," even for medical technology or techniques that are well established in the field.
Critics of the decision argue that the new standard could allow judges to throw out expert testimony based on simple disagreements between different witnesses. Historically, juries have been allowed to hear such testimony (when not "new" or "novel") and decide for themselves whether it is valid and relevant to the case.
The move is largely seen as helping businesses, which benefit from the stricter standards by making it harder for people to sue them. The Florida judges who reversed the earlier ruling are part of the new Republican-appointed majority on the state's supreme court, which has also looked to lock down high-verdict awards in personal injury cases.
Manhattan's Mega-Million Mesothelioma Verdict
After three days of deliberation, a jury in Manhattan, NY, came back with a $300 million punitive damages award to a woman who says that asbestos-laden talcum powder contributed to her mesothelioma diagnosis. The same jury had previously awarded the woman $25 million in compensatory damages, for a total award of $325 million.
The case involved a claim by Donna Olson that her prolonged use of talc-based powders manufactured by Johnson & Johnson led to the development of mesothelioma, a rare cancer that develops in the linings of the lungs. While talc does not itself cause mesothelioma, talcum powder can easily become contaminated with asbestos, which is often found naturally in or near talc mines. J&J has repeatedly denied that its talc products contain asbestos, but internal memos and other documents revealed in court have shown that the company lied about the presence of asbestos in its powder products. The documents also show that the company knew about possible asbestos contamination for at least 40 years.
J&J settled three other similar talc cases earlier this year, but the company plans to fight this latest verdict. Its overall record is uneven, with several other multimillion dollar verdicts against it, while other cases have been found in favor of the company.
Note: Asbestos-contaminated talcum powder cases are different than the talcum powder lawsuits against Johnson & Johnson that claim talc causes ovarian cancer.
Do you or a loved one have mesothelioma?
Compensation is available - talk to a lawyer today