J&J Knew About Asbestos in Talc More Than 40 Years Ago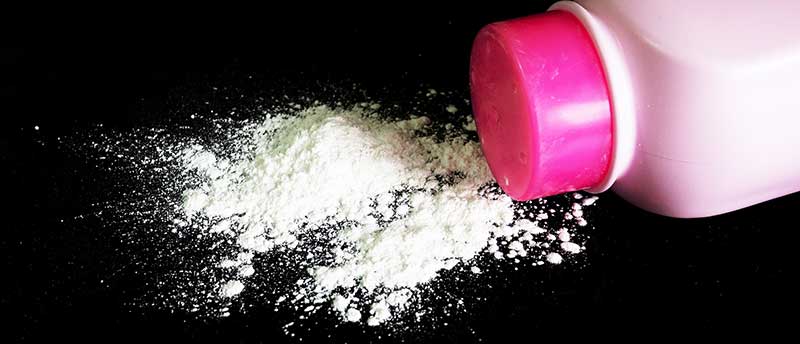 Johnson & Johnson may be in trouble again if newly released documents from a trial in St. Louis, MO, is any indication. Not only did the large pharmaceutical company know about the link between talcum powder and ovarian cancer - as has been revealed in previous trials - but a revealing memo shows that the company may have been aware that the crushed talc it used in its baby powder and body powder products was contaminated with asbestos, a known carcinogen.
Earlier this month, lawyers representing more than 50 women in a talcum powder lawsuit unveiled documents that they claim indicate J&J was aware of asbestos fibers in its talc-based products over the course of several decades. These documents appear to contradict other memos, presented by the company's legal team, that claim asbestos "has never been found and it never will." Even though testing often finds no traces of the substance, there are many products that still contain asbestos today.
Concerned that asbestos may have tainted talc used in the company's products, a J&J official suggested the company move toward using cornstarch in its consumer products rather than talc.
Bloomberg
According to a Bloomberg News report, inspection officials at Johnson & Johnson found traces of two types of asbestos in talc sourced from a Vermont mine. A 1973 memo details their findings, while a 1974 booklet describes asbestos contaminating talc obtained from a mine the company bought in Italy.
These revelations add a new wrinkle to the already embattled pharmaceutical and consumer products company. To date, juries have found the company liable in four cases, with more than $700 million in damages being paid to women diagnosed with ovarian cancer (or their surviving family members).
Asbestos, Talc & Ovarian Cancer
While there is still some debate over how big of a role talc plays in causing ovarian cancer, there is little doubt that asbestos is the primary cause of some types of cancer, and a contributory cause for others.
Mesothelioma is the most directly linked cancer to be caused by asbestos. It most commonly develops in the lining of the lungs, but it can also originate in the abdomen or heart. Although rare, mesothelioma is extremely deadly, with most patients dying in less than a year after diagnosis.
Other cancers that have been linked to asbestos include cancers of the colon/rectum, lungs, pharynx (throat), stomach - and ovaries. In fact, after mesothelioma, the two cancers most closely linked with asbestos are ovarian cancer and laryngeal cancer, according to a variety of scientific studies.
However, most of those studies have focused on occupational exposure to asbestos, primarily because industrial workplaces factories, mines, shipyards, and construction sites have seen the highest amounts of asbestos exposure. Very few studies have been done on direct exposure through asbestos-contaminated talc - mostly because many people believed Johnson & Johnson and other companies when they said their talc-based products were asbestos free.
With this new evidence that asbestos may have been found in baby powder and body powder products for decades, it will likely strengthen the lawsuits against J&J, given that there is an already established medical link between asbestos and cancer. Even if the exact role that talc plays in ovarian cancer - and it is clear that there is some role, given that talc particles have been found in ovarian tumors going back to at least the 1970s - is still unknown, the additional evidence of asbestos exposure is likely to increase the number of women seeking to make the consumer products company pay.
This particular class action lawsuit covers more than 50 women who filed in St. Louis, Missouri, and based on how it is going so far, it could be J&J's most expensive yet. Previously, the company had tried to get the suit thrown based on a recent Supreme Court ruling that limits state courts' ability to consider complaints filed by out-of-state plaintiffs. However, a federal judge dismissed Johnson & Johnson's claims, deciding that the plaintiffs had filed their initial complaints well before the established deadline.
In any case, the company so far has refused to settle any of the claims made against it, a strategy that has proven costly and time-consuming. Whether this new evidence becomes a tipping point that makes the giant multinational corporation consider a new approach remains to be seen.
What to Do If You Used Talcum Powder
For decades, many women were told they should use baby powder as part of their daily feminine hygiene routine. This in spite of the fact that Johnson & Johnson knew about medical studies potentially tying the mineral to ovarian cancer.
So what should women do now?
First, stop using talcum powder on or near your genitals. This includes powdering undergarments, sanitary napkins, tampons, or other products that may be used near your vagina.
If you exhibit any signs or symptoms of ovarian cancer, talk to your doctor and get them checked immediately. Early detection is important to survival for any form of cancer.
If you are diagnosed with ovarian cancer after years of using talcum powder products, talk to a lawyer who can help you understand your legal rights. You may be eligible for compensation to pay for treatment and related expenses, and most reputable attorneys will evaluate your case for free.
For more information about this topic, see our page on talcum powder and ovarian cancer.