Top Personal Injury Lawsuits to Watch in 2019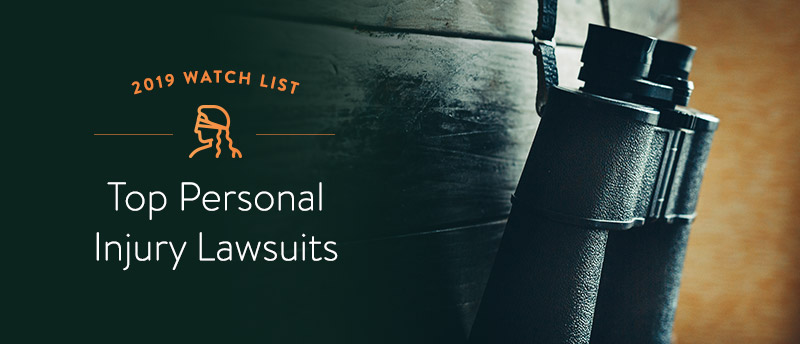 A month into 2019, there are already some interesting lawsuits shaping up that could dominate the year's legal news, the way that talcum powder lawsuits and Roundup lawsuits have in recent years. Here are some of the top personal injury lawsuits we are watching in 2019.
3M Military Earplug Lawsuits (January 2019)
Just last month, a veteran in Texas filed a lawsuit against consumer products maker 3M Company for its role in the manufacture of defective military-grade earplugs. According to reports, former U.S. Army Sergeant Scott Rowe says he has suffered from a deafening ringing in his ears for more than a decade due to a persistent case of tinnitus caused by inadequate ear protection while on the battlefield. Rowe also suffers from dizziness and headaches, according to his lawsuit.
Given the thousands of military personnel who have used the earplugs - known as Combat Arms Earplugs Version 2 (CAEV2) - there is a huge potential for 3M earplug lawsuits to balloon in the next year. Cases like Rowe's are bolstered by a 2016 whistleblower lawsuit that claimed 3M knew about the earplugs' defect but did nothing to inform users or the military. They settled a U.S. Department of Justice prosecution under the False Claims Act, but that money does not go to veterans for medical bills, lost income, and other expenses related to their ear injuries. We will be watching Rowe's case closely and looking for other cases related to CAEV2 earplugs.
Taxotere Bellwether Trials (May 2019)
The first of five scheduled bellwether trials for Taxotere - a chemotherapy drug used to treat breast cancer, prostate cancer and non-small-cell lung cancer - is scheduled to start up in May 2019. Originally scheduled for January, the bellwether trials were pushed back to May to give plaintiffs and defendants more time for discovery and potential settlement discussions.
Taxotere lawsuits first came to the forefront in January 2017 when the Judicial Panel on Multidistrict Litigation consolidated a handful of cases under multidistrict litigation in the U.S. District Court for the Eastern District of Louisiana. Since then, more than 10,000 federal lawsuits have been filed in MDL 2740, all of them claiming that patients who received Taxotere treatment suffered permanent hair loss (alopecia).
The bellwether trials starting in May will be the first Taxotere cases to reach the trial phase, and they will help set precedents and inform arguments for both sides in the thousands of cases to follow. Historically, defendants who fare poorly in bellwether trials are more likely to settle the remaining cases rather than risk potentially high verdict awards. We will be watching these bellwether trials closely to see how they turn out.
Roundup Weed Killer Cancer Trials (Ongoing)
Last fall's multimillion dollar verdict award to Dewayne Johnson - a former school groundskeeper who developed non-Hodgkin's lymphoma - prompted a national conversation about the dangers of Roundup and its active ingredient, glyphosate. While the Johnson verdict was later reduce significantly, he will receive about $78.5 million.
As of the most recent reports, there are more 9,300 Roundup lawsuits currently underway, many of which were filed after the Johnson verdict showed that Roundup-related cancer cases have some legal merit. Monsanto, which was purchased by Bayer last year, has not yet declared whether it is going to seek a settlement to resolve these cases, but additional high-value verdicts could push the agricultural company in that direction. We will continue monitoring these trials and share more info as it becomes available.
Essure Permanent Birth Control Lawsuits (Ongoing)
Speaking of Bayer, last July, the company issued a statement stating that it was going to discontinue sales of its controversial Essure permanent birth control device in the United States by the end of 2018. The pharmaceutical and medical device company cited declining sales as the primary reason for its decision to stop selling the device in the U.S., although the timing of the announcement came suspiciously just before a Netflix documentary brought widespread attention to the device's many problems.
In December, U.S. Food & Drug Administration Commissioner Scott Gottlieb said the regulatory agency would continue potentially dangerous effects of the Essure implant. In the interim, more and more women are still filing Essure lawsuits due to problems with the birth control device. Discontinuing Essure may be a good long-term move for the company, but it is still going to have to own up to the problems it has caused thousands of women while it was in circulation. We will continue to provide updates to these lawsuits as the year goes on.
And Many Others...
Our editorial team is constantly monitoring the news for new information about drug lawsuits, medical devices claims, consumer product litigation, and personal injury lawsuits that can affect your health and safety. You can be sure that we will let you know about the lawsuits above and many others as additional information becomes available.
Click here for a lists of all lawsuits we cover on ConsumerSafety.org >>>