When to Hire a Workers' Compensation Lawyer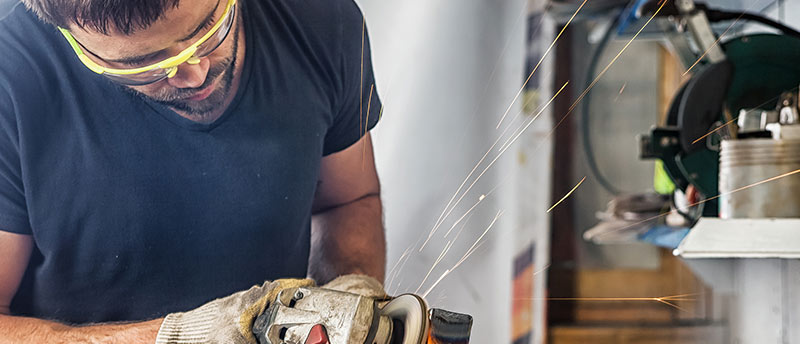 After being injured on the job, you may be left wondering what your options are. A workers' compensation lawyer can help evaluate your situation and what venues are available for compensation. If you're unsure about the laws in your state, and if your employer is following proper workers' comp regulation, it's a good idea to seek professional help.
Facing a workplace injury?
Get help now
What Is Workers' Compensation and How Does It Work?
Employers use a form of insurance called workers' compensation as a way to provide employees with cash and medical benefits after their job causes an injury or illness. These benefits can cover lost wages as an individual is unable to work, as well as related treatment and medical bills. Eligibility and coverage rely on a variety of factors.
Most states require employers to carry some form of workers' compensation insurance, although certain exceptions may be made for businesses that hire only a few employees or meet other conditions. Hiring an attorney who understands workers' compensation laws in your state is critical, since not every state has the same requirements.
While some cases are very straightforward, others can be more complex and challenged by insurance companies. In both cases, it's essential to get in touch with a workers' comp attorney to fully understand your options.
Workers' Compensation Eligibility
Before considering whether or not you should hire a workers' compensation lawyer, it's important to first understand if you are eligible.
Factors Determining Eligibility
| | |
| --- | --- |
| Are you an employee? | Workers' comp only applies if you are an employee of the company where the incident occurred. Contract workers may not be considered employees who need to be covered by workers' compensation. |
| Does your employer have workers' compensation insurance? | Not all employers are required to have workers' comp. Regulations vary based on state, usually by the number of workers that are employed at a business. The United States Department of Labor lists officials by state for more information on state requirements. |
| Is your injury or illness work-related? | Injury/illness doesn't have to be at the actual workplace, but does need to be directly work-related. For example, it could happen when traveling for work. It also can happen gradually after repeated use or misuse in the workplace. |
There are several factors that could affect eligibility, leaving some workers without workers' comp coverage. This could include agricultural workers, domestic workers, seasonal workers, or undocumented workers, as determined by state requirements.
In addition, employees could be ineligible for benefits for the following reasons:
Injuries are self-inflicted and could have been avoided
Injury-causing behavior was illegal or prohibited
Injury didn't happen while on the job
Individual was under the influence during the time of work injury
Should I Hire a Workers' Comp Lawyer?
If an injury is very minor, the employer openly admits that the injury happened at work, or not much work is missed, ill or injured workers may not feel that a lawyer is necessary. However, it's never a bad idea to seek legal counsel to ensure you're getting the benefits that you deserve. Other cases that are more complex, have a higher severity of injury or that entail difficulties from the employer are very likely to require a workers' comp attorney. Scaffolding accidents, for example, are common workplace injuries that often require a personal injury lawyer to review safety standards and ensure injured employees are receiving proper compensation.
Complexities of Workers' Comp Cases
Workers' comp claim is denied by employer
Retaliation or discrimination from employer
Employer doesn't have workers' compensation insurance
Comp benefits aren't paid out properly
Third party is involved with the injury or illness
Insurance challenges treatment options
Injury or illness results in permanent inability to work or lasting work limitations
Settlement offer doesn't cover wages and medical expenses as needed
Individual currently receives other medical benefits, such a social security
Individual has pre-existing conditions
Workers' compensation attorneys help navigate any complexities with your situation to ensure you're getting the help that you deserve.
Benefits of Hiring a Workers' Compensation Lawyer
For those wondering whether or not to pursue a lawyer, it's important to understand the experience that they have handling and winning similar cases. Many law firms even offer a free consultation to help answer any questions that you might have and determine if a lawsuit is the way to go.
It's the job of a workers' compensation attorney to defend the rights of the employee. The attorney will conduct ample research to prepare the best case. First, he or she will collect all appropriate information during the discovery process, gathering medical records, a potential testimony from a vocational expert that can speak to the requirements of a particular job, statements from friends and family members, victim history and other components that could strengthen the case and help combat any potential defenses.
With experience in the workers' comp field, the lawyer will know what to present and how best to present the information for a strong compensation claim. The attorney will then be able to negotiate and adjust a probable settlement agreement to ensure proper coverage of accrued expenses, as well as navigate any unexpected outcomes of the case.
Potential Outcomes of a Workers' Compensation Case
There are four main types of workers' compensation benefits that an employee can utilize after a work-related injury or illness.
Common Workers' Compensation Benefits
| | |
| --- | --- |
| TPD (temporary partial disability) | Temporary injury/illness that doesn't prevent employee from working |
| TTD (temporary total disability) | Disabled from working for a certain number of weeks |
| PPD (permanent partial disability) | Permanent injury/illness that doesn't prevent employee from working |
| PTD (Permanent total disability) | Completely disabled from working anywhere |
If an employee experiences any of the complexities mentioned above, he or she may choose to hire an attorney, in which case a claim is filed, and the case faces a variety of outcomes, including:
Settlement: A lump sum of compensation or other benefits is granted to the employee by the employer and insurance company.
Claim Denial: Claims can be denied for a variety of reasons, including lack of timeliness when filing (state laws define reporting and claiming timeframes), employer denies the claim validity, the injury/illness can't be address with compensation, the claimant isn't pursuing any type of medical treatment, or lack of evidence proving that injury/illness is work-related.
Appeal: Many times insurance companies expect claimants to avoid appealing, but if a settlement doesn't meet the employees needs, your lawyer can help advise whether or not to appeal and reject the decision that was made. A legal professional is a vital component to appeal due to its legal complexity.
Other financial compensations: If an individual isn't eligible for common workers' compensation benefits or if a claim is denied, he or she may qualify for other forms of assistance, such as long-term disability or insurance, reimbursement for lost wages, vocational rehab, short-term disability or social security disability. If a product or device caused the injury, the victim could also be able to sue a third party manufacturer.
Workplace injury lawyers can best advise to all options of compensations for your particular case to determine you find the help you're entitled to.