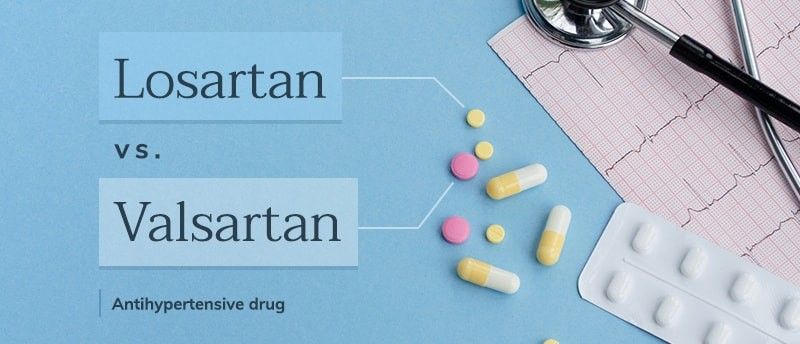 The generic versions of losartan and valsartan made national headlines this past year when the FDA announced a significant number of recalls after finding carcinogens in both drugs. Losartan and valsartan are categorized as angiotensin II receptor blockers (ARBs). These drugs mainly treat hypertension -- also commonly known as high blood pressure.
Were you diagnosed with cancer while taking valsartan?
Consider taking legal action today
With hypertension affecting roughly one out of every three adults in the country, these recalls have left millions of Americans questioning the safety of their antihypertensive medications. In order to alleviate some of the public confusion and concern, we've created this brief comparison to showcase the differences and similarities between losartan and valsartan and further explain the extent of the recalls.
Important: This comparison should not be taken as medical advice. Speak with your doctor or pharmacist about which medication will provide the most benefit to you based on your individual needs and medical history.
Understanding ARBs
What is an angiotensin II receptor blocker?
An ARB is a drug prescribed to lower the blood pressure of patients with hypertension.
How does it work?
Angiotensin is a hormone found in the body that causes blood vessels to narrow. An ARB prevents this hormone from acting, thereby allowing a patient's blood vessels to maintain a relaxed state. For patients with high blood pressure, ARBs cause blood pressure to decrease, as more blood is able to flow freely through the dilated vessels.
What other conditions do ARBs treat?
Apart from lowering a patient's blood pressure, an ARB may be prescribed for patients experiencing chronic kidney disease, heart failure and diabetic kidney disease.
Similarities Between Valsartan and Losartan
As ARBs, valsartan and losartan are very effective at treating high blood pressure and reducing the risk of stroke in patients with left ventricular hypertrophy. Here are some other similarities shared by these drugs:
Neither drug is recommended for women who are pregnant or breastfeeding.
Both drugs may raise potassium levels in patients and require patients to maintain frequent blood test monitoring.
Both drugs may cause dizziness, fatigue, back pain, hypotension and diarrhea in certain patients.
Hydrochlorothiazide Combination Medications
Several drug manufacturers include losartan and valsartan in combination pills with a substance called hydrochlorothiazide. Hydrochlorothiazide is a diuretic that works in conjunction with ARBs to lower a patient's blood pressure. Additionally, hydrochlorothiazide reduces potassium levels in the body. This combination pill effectively negates any potassium irregularities caused by either drug alone. Some combination valsartan and losartan drugs were implicated in the recalls.
Differences Between Losartan and Valsartan
Although these two medications are incredibly similar, there are a few distinguishing factors between them.
Valsartan and Losartan Indications
Losartan Indications: Used to treat high blood pressure, decrease stroke risk and treat diabetic kidney disease
Valsartan Indications: Used to treat high blood pressure, treat heart failure and decrease the likelihood of a fatal cardiovascular event in patients after a heart attack
Valsartan and Losartan Side Effects
Although these drugs share side effects with each other and with other ARBs, there are certain side effects unique to each drug. Below is a list of side effects that are unique to either losartan or valsartan. This list is not a comprehensive list of either drug's side effects and not every patient will experience all, or any, of the side effects listed.
Valsartan vs Losartan Side Effects
Valsartan
Losartan

Headaches
Viral infections
Abdominal pain
Joint pain
Cough
Nausea

Upper respiratory infections
Nasal congestion
Chest pain
Sleep disorders
Muscle cramps and weakness
Urinary tract infections (UTIs)
Valsartan vs Losartan Dose
A once-daily valsartan pill provides 24-hour blood pressure control to patients regardless of the strength of the dose. Losartan, on the other hand, only offers 24-hour coverage at 100mg. Patients taking a once-daily dose of 25mg or 50mg in the morning may see a rise in blood pressure as they prepare for bed later that same day.
Valsartan May Be More Effective Than Losartan
Studies have shown that although both drugs are effective at reducing a patient's blood pressure, when taken at higher doses (e.g., 160mg or 320mg), valsartan is more effective at lowering blood pressure than losartan at its highest dose of 100mg.
However, in another study, losartan displayed one additional advantage over valsartan. Patients in the study taking losartan experienced a drop in blood pressure and in serum uric acid levels. The effect reported by this study may prove attractive for patients dealing with hypertension and gout because gout symptoms decrease concurrently with serum uric acid levels.
Combination Medications
Although losartan and valsartan can both be found combined with hydrochlorothiazide, valsartan is also available in several other combinations. Here are the brand names of these combinations listed:
Entresto: A combination drug with sacubitril that has been shown to reduce hospitalizations related to heart failure in certain patients
Exforge: A combination drug with amlodipine that is generally prescribed to patients when other hypertension drugs prove to be ineffective
Is the Cost of Valsartan the Same as Losartan?
Generic options can be found for valsartan and losartan, making either drug relatively inexpensive for patients. At face value, the cost of the two drugs is fairly comparable. However, most insurance companies and some Medicare plans cover generic losartan but not other name brand alternatives, making generic losartan cheaper for the consumer and thus more popular.
Drug prices for both medications may also be affected by drug shortages in light of the recent recalls.
Losartan vs Valsartan Recall
In July 2018, several lots of generic valsartan were recalled in 23 different countries, including the United States. The discovery of a probable carcinogenic impurity, N-nitrosodimethylamine (NDMA), prompted these international recalls and triggered larger investigations by the U.S. Food and Drug Administration (FDA) and international health agencies. The FDA investigation has led to nearly 75 additional recalls of three generic ARB drugs -- valsartan, losartan, and irbesartan -- sold by numerous manufacturers. Three other potentially carcinogenic impurities have been identified in some of the recalled drugs as well.
Following the initial July recall, many patients taking contaminated lots of valsartan were prescribed losartan as a replacement. However, several lots of generic losartan were recalled in November 2018. The sheer number of ARB recalls in the past year has led to a shortage of safe alternatives for patients diagnosed with hypertension. In order to avoid a larger shortage, the FDA lowered their acceptable limits for several of the contaminants. FDA officials maintain that the higher level of allowed carcinogens will not substantially impact the overall safety of these drugs.
Valsartan and Losartan Litigation
Following the mounting number of recalls, patients have filed separate lawsuits against the manufacturers of all three implicated ARBs -- valsartan, losartan, and irbesartan. The lawsuits claim the contaminated medications played a direct role in patients developing cancer. Out of the three ARBs, more valsartan lawsuits have been filed against manufacturers, due to the fact that generic valsartan medications have seen the highest number of recalls in the last year compared to other ARBs.
Apart from individual lawsuits filed against valsartan manufacturers, several class-action lawsuits have been filed, and the Judicial Panel on Multidistrict Litigation (JPML) established multidistrict litigation (MDL) to consolidate valsartan cases from across the country. As of August 2019, reports show more than 100 lawsuits have been filed in the MDL.
If you or a loved one took contaminated valsartan and have been diagnosed with cancer, you may be eligible to file a lawsuit today. Speak with one of our experienced prescription drug lawyers today.