Talcum Powder Lawsuit Verdict Costs J&J $4.69 Billion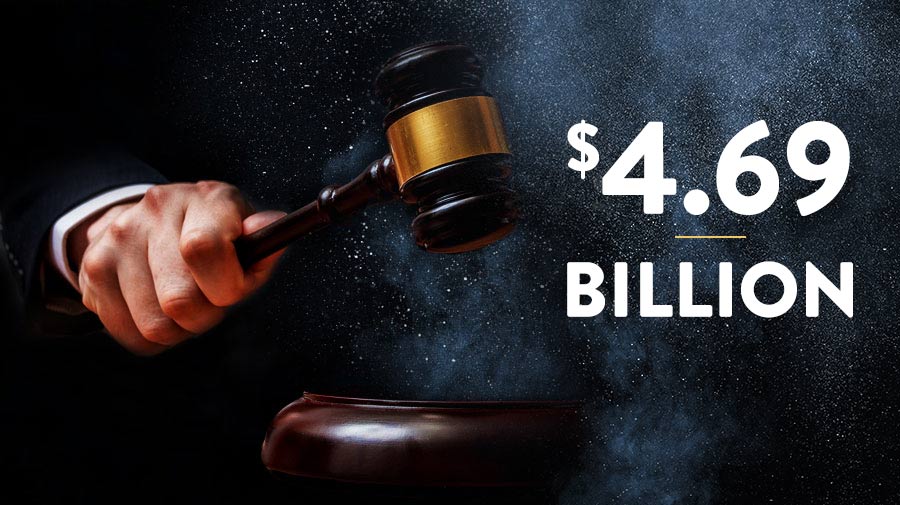 When it comes to talc products, Johnson & Johnson has been getting hammered - or maybe "gavelled" is a better term. In the latest talcum powder lawsuit that has reached a verdict, a St. Louis jury ordered the company to pay a total of $4.69 billion to 22 women - approximately $213.2 million per person.
At the center of the case was the claim, made by all of the women involved in the lawsuit, that J&J's talcum powder products can cause ovarian cancer. While the company continues to deny such claims, juries have repeatedly found in favor of the plaintiffs. Such a finding occurred earlier this year when a jury awarded $117 million to Stephen Lanzo, who claimed that asbestos in Johnson's Baby Powder caused his mesothelioma cancer.
According to reports, the Missouri jury deliberated for eight hours before reaching its final figure. The $4.69 billion jury verdict includes:
$550 million in compensatory damages to cover costs of chemotherapy treatments and related expenses
$4.14 billion in punitive damages to punish J&J for its role in distributing a harmful product
This verdict came after several weeks of science-heavy testimony by expert witnesses, as well as employees from Johnson & Johnson. Some of the women who filed the lawsuit also testified, as did family members of six of the women named as plaintiffs who died from their ovarian cancer.
Do you or a loved one have ovarian cancer?
Contact a lawyer if you use talc products regularly
Does Talcum Powder Contain Asbestos?
One of the critical questions that the jury had to decide was whether the talcum powder products at the center of the case contained asbestos. The plaintiffs claimed that Johnson & Johnson knew about asbestos in its talc products as early as the 1970s, but it never warned consumers about the potential dangers of using those products. The company, however, argued that its own tests, as well as a test conducted by the U.S. Food and Drug Administration, have repeatedly failed to find any in Johnson & Johnson talcum powder products.
What may have been the deciding factor is the plaintiffs' argument that the tests employed by both J&J and the FDA were flawed. As such, lawyers for the plaintiff argued, Johnson & Johnson should have put labels on its Johnson's Baby Powder and Shower-to-Shower Body Powder products to warn consumers of the potential cancer risk. The company claims that no such warning label is necessary, however, because its products are safe and asbestos-free.
Nonetheless, internal memos from the 1970s have shown that J&J was aware of the possibility of asbestos in its talc powder products, but the company still promoted its products as safe for use in daily feminine hygiene routines. Around the same time, doctors began to discover talc particles in ovarian cancer tumors. This is the first case that has focused on asbestos contaminating the talc, rather than the talc particles as the cause of cancer themselves.
7 Johnson & Johnson Lawsuits Every Person Should Know About
J&J Lawsuits
The Road to Appeal
Spokespersons for Johnson & Johnson have already stated that it will appeal the ruling, calling the Missouri verdict the result of a "fundamentally unfair process" and saying they were "deeply disappointed" in the jury's conclusions. Considering that the company has successfully appealed several other jury awards in talcum powder cases, including the highest individual verdict awarded so far ($417 million), it is not surprising that the company will try to do so in this case, as well.
The biggest question still to be answered is how out-of-state claims will fare the appeals process. Of the 22 women named as plaintiffs in the most recent lawsuit, 17 lived outside of Missouri. However, last year the Supreme Court ruled in a California Plavix lawsuit that state courts did not have jurisdiction to oversee complaints from out-of-state plaintiffs. As such, appeals court judges could decide to throw out the verdict as it relates to the 17 out-of-state plaintiffs, and it could send the other 5 back to the St. Louis Circuit Court for a new trial.
Even if that happens, Johnson & Johnson is still not out of the woods. The company is currently facing more than 9,000 lawsuits over its talcum powder products in state and federal courts, many of them in places like New York, New Jersey, North Dakota and South Dakota. And that is only a portion of the tens of thousands of other lawsuits against J&J related to other products, drugs and medical devices.
We may not know the final outcome of these trials for months or even years. Still, as pressure mounts against the company with more and more women filing talcum powder lawsuits, they may find it in their best interest to settle. If you or a loved one has been diagnosed with ovarian cancer after years of using talcum powder products, you should talk to a product liability lawyer right now for a free case review and to see if you may be eligible for compensation.