$417 Million Echeverria Talc Verdict Wallops J&J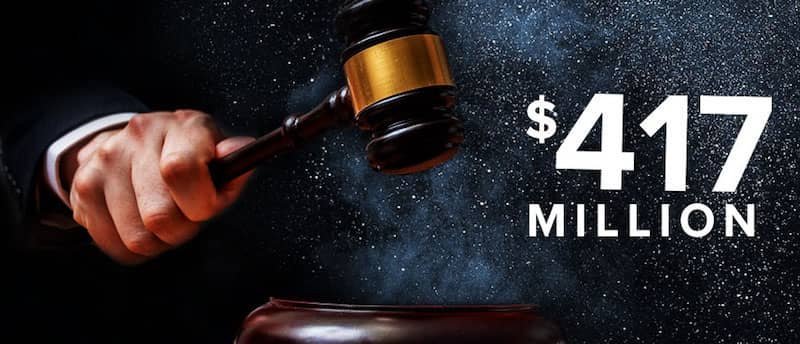 The first talcum powder lawsuit in California came to a close with a thunderous $417 million settlement against Johnson & Johnson on Monday August 21, 2017. The four week trial began in Los Angeles on July 10, and ended with the single largest award to date in a talc suit. The court's decision eclipses all other talcum powder awards combined, bringing the total to a whopping $724 million.
California Bellwether Talc & Cancer Trial
Eva Echeverria's case was the first talc bellwether trial in the Golden State, and also the first outside of St. Louis, Missouri. Echeverria, 63, joins a long list of women who used talc products like Johnson's baby powder and Shower-to-Shower powder for decades and later developed ovarian cancer. Echeverria and others claimed that Johnson & Johnson knew of the link between talcum powder and cancer, but chose not to warn women of the risks.
The jury's decision has been hotly anticipated after a recent Supreme Court Plavix ruling stymied efforts to funnel out-of-state cases into the St. Louis court system.
What are bellwether cases?
Learn More
Why it's a big deal
Previously, there were only about 300 talcum powder claims in Los Angeles--far fewer than the thousands pending in Missouri--but this number is expected to skyrocket after Monday's guilty verdict. Beyond being the most populous state, California is home to the fifth largest African American population in the country. This simple statistic could become the catalyst for another wave of suits, because black women are 50% more likely to have used talcum powder for feminine hygiene due to an increase in minority marketing by J&J during the 1990s.
Details of the verdict
In their arguments, plaintiffs called attention to two studies in particular. A 1982 study that they argued shows women who used talc on their genitals were at a 92 percent increased risk for ovarian cancer, and a 1999 study by the National Cancer Institute concluded that "avoidance of talc in genital hygiene might reduce the occurrence of a highly lethal form of cancer by at least 10 percent."
The $417 million award can be broken down between compensatory and punitive damages as follows.
$68 million in compensatory damages against Johnson & Johnson
$340 million in punitive damages against Johnson & Johnson
$2 million in compensatory damages Johnson & Johnson Consumer Inc.
$7 million in punitive damages against Johnson & Johnson Consumer Inc.
Attorney's for the plaintiff also presented key evidence that had not previously been used in talc trials, and which could have swayed the jury to a much larger verdict. The evidence included warning labels from other talcum powder brands on the market disclosing the possible link to ovarian cancer, which further suggested that J&J acted irresponsibly.
A statement by Echeverria's attorney reads: "We are grateful for the jury's verdict on this matter and that Eva Echeverria was able to have her day in court. These cases are about fighting for justice for women all over California who are suffering from ovarian cancer because of Johnson & Johnson's covering up the truth for so many years."
Johnson & Johnson spokesperson Carol Goodrich said in a statement: "We will appeal today's verdict because we are guided by the science, which supports the safety of Johnson's Baby Powder."
Previous Talcum Powder Verdict Timeline
With the floodgates in California now open, more women are likely to begin filing talcum powder lawsuits. The next trial set to begin in September in Los Angeles County. It will be the first attempt to prove that J&J's talc products caused mesothelioma, a rare form of cancer affecting the lining around the lungs. This is likely due to studies that have shown asbestos contamination in talc--something thought to be a thing of the past, but there are many products that still contain asbestos ... even Justice Stores makeup.